Samsung Galaxy S4 vs Galaxy S3 upgrade factor video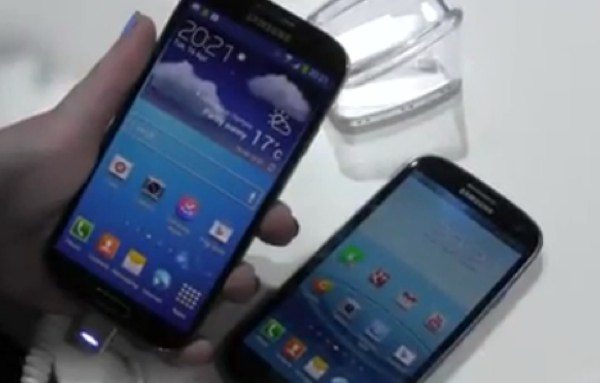 The Samsung Galaxy S4 is about to arrive in regions worldwide and if you currently have a Galaxy S3 then you may be wondering if it's worth your while upgrading. Today we have a brief video comparison of these phones, the Samsung Galaxy S4 vs. Galaxy S3, which questions whether an early upgrade is warranted and can help you make an informed decision.
Obviously we've posted many articles now on the Samsung Galaxy S4 and if you want a straightforward specs comparison of the Galaxy S4 and S3 then head to our earlier post here. We have also given you another video comparison of these two handsets for those trying to decide between the two which showed that obviously the Galaxy S4 is a pretty big step up on the Galaxy S3 as far as specs are concerned but also noted that there great savings to be had on the Galaxy S3 now for those who don't need the very latest thing.
This latest short video is more about the upgrade factor and comes from The Inquirer who managed to compare the two at a Samsung Galaxy S4 world tour event in London on Tuesday. It begins with showing how similar the two phones are when side by side although there is now some texturing to the reverse of the Galaxy S4. It's noted that this doesn't actually offer much extra grip though but does looks nice when catching the light!
The video goes on to compare the sizes of the Galaxy S4 and S3 noting the extra thinness of the Galaxy S4 and also the increased display size. The screen is described as a highlight and noted as being higher resolution than the S3 and much brighter. After mentioning the new features of the Galaxy S4 but not sounding entirely sure about how much of an advantage they are, the conclusion from The Inquirer was that "we're not sure Samsung has done enough just yet to maybe persuade people to upgrade from the Galaxy S3 early."
You can view the video below this story and we'd really like to hear your thoughts on the Galaxy S4 and S3. If you already have the Galaxy S3 do you now think it's worth an early upgrade to the Galaxy S4 or are you in no hurry to replace your S3? Maybe you've never owned a Galaxy S phone before but like what you see about the Galaxy S4? Let us know with your comments.
Source: The Inquirer