Twitter Music app for iPhone launched, Android users wait on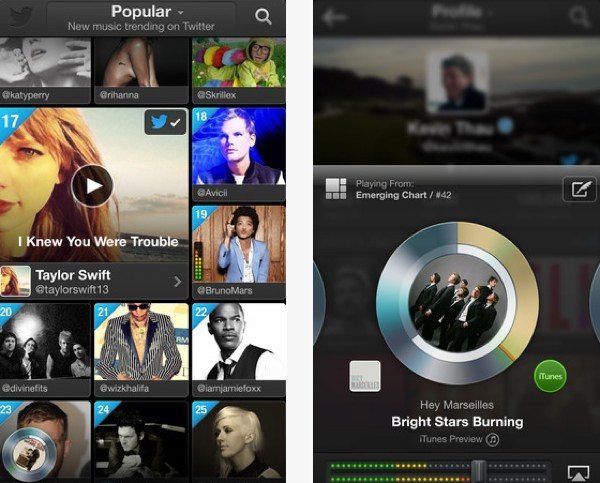 The much-publicized Twitter Music app launched today for iOS devices, iPhone, iPod touch and iPad. It's available in the App Store right now but while iOS device users are now able to take full advantage of Twitter #music, Android device owners still have to wait on. Twitter Music is a new service from the giant social networking company that uses Twitter activity to help users find the music they want.
Twitter #music currently uses three sources, Spotify, Rdio or iTunes and users can tweet song choices direct from the app. iTunes is the default for previews when browsing music while those with accounts for Rdio or Spotify can log in for full tracks. Features of Twitter #music include Twitter Charts which enables users to explore songs or tap artist avatars in order to follow, listen or find out more.
The Search feature involve users hitting the top right button, tapping to select an artist and tapping again to listen while #Now Playing involves the artists and people a user follows and lets you listen to music that they have tweeted. You can also tweet from whichever player you are using by locating the spinning disc in the bottom left corner and tapping it.
Twitter #music is a free app for the iOS platform and is available from iTunes here. The app is compatible with iPhone 3GS, iPhone 4, iPhone 4S, iPhone 5, iPod touch (3rd, 4th and 5th generation) and iPad running iOS 6.0 or later and has been optimized for iPhone 5. Alas for Android device users this is just one more occasion where they will have to wait longer than iOS owners.
We've posted many times now about Android owners having to wait for a particular app that is available for the iOS platform and we always get a lot of comments from unhappy Android users who understandably want to know why they are often left out of the launch. Twitter #music for Android will come eventually but that will be no consolation for being missed again.
What are your thoughts on the new Twitter #music app? If you have an iOS device and try the app out let us know your impressions. Do you think Android users are missing something good or shouldn't worry too much as you're not that impressed with Twitter Music? Maybe you're an Android enthusiast feeling frustrated that once again Android users have been overlooked? Let us know with your comments.