Cut the Rope Time Travel sequel for iOS & Android released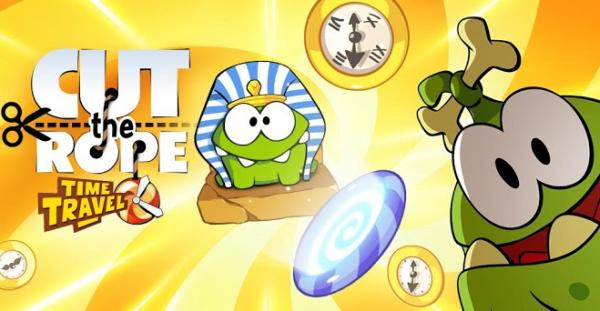 There are now a number of simple but addictive games available for mobile devices that have quickly become smash hits, and sometimes depending on the platform are also free to download. Today we have news of the Cut the Rope: Time Travel sequel that has been released for iOS and Android users to enjoy.
Around a week ago UK based developer ZeptoLab teased the game was coming by releasing a demo video that didn't really reveal too much about the game. This latest instalment in the franchise has now been released and sees everybody's favourite little green star, OmNom, go back in time to feed his ancestors with his favourite candy.
The new game brings fans a whole new set of ropes to cut and challenges with six brand new locations that include a Pirate Ship, Ancient Egypt, Ancient Greece, Stone Age, Renaissance, and Middle Ages.
Each level has two cute little monsters that need feeding and fans of the franchise will love this latest version of the popular game, and just like before ropes need to be cut to collect starts that are used to unlock other features of the game.
Cut the Rope: Time Travel has a free version for Android users to download here, while iOS users the app costs £0.69/$0.99 from the App Store, and check out the demo video we have embedded below.
Are you a fan of the Cut the Rope franchise?