BlackBerry Q10 early availability at Selfridges from April 26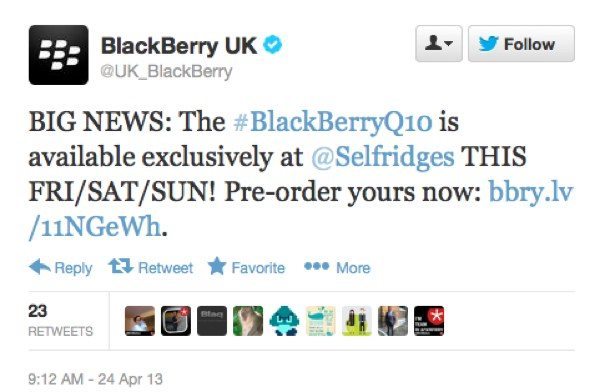 The BlackBerry Q10 smartphone is attracting a huge amount of interest as it will be the first BlackBerry 10 device to release that features the customary QWERTY keyboard. The UK release of the BlackBerry Q10 is scheduled for April 30th but we have now heard that Selfridges will have exclusive early availability from April 26th to April 28th.
The BlackBerry Q10 is the second device to release running the new BB10 operating system after the Z10 released back in January, although the Z10 was an all-touch device. There is likely to be a big demand for the Q10 and news that it will be available several days earlier than expected from Selfridges will no doubt please many potential buyers.
BlackBerry UK announced the move as "Big News" in a tweet saying that the BlackBerry Q10 will be available at Selfridges exclusively on this Friday, Saturday and Sunday. It is available to pre-order at Selfridges here for £579.99 or of course if you live nearby you can head to the department store on Friday. This offer appears to apply for the black colour option of the phone as the white version is not mentioned. If you pre-order today orders will be dispatched from April 26th.
As a brief reminder of specs the BlackBerry Q10 has a TI OMAP 1.5GHz dual-core processor, 3.1-inch Super AMOLED display with resolution of 720 x 720 and 328 ppi, 2GB of RAM and 16GB of internal storage, expandable via microSD. It also has an 8-megapixel rear camera, 2-megapixel front-facing camera, LTE connectivity (where applicable) and a 2100 mAh battery.
We imagine plenty of people will be checking out Selfridges on Friday to get an early look at the BlackBerry Q10. Are you tempted to the BlackBerry Q10? Maybe you'll be taking advantage of Selfridge's early exclusivity? Send us your comments to let us know.
Source: BlackBerry UK (Twitter)