Samsung Galaxy S4 officially launches for India, release from today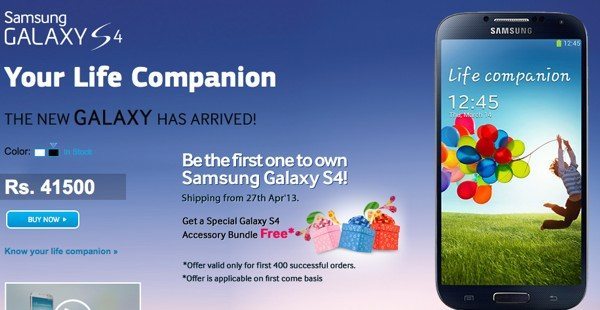 We have some great news today for our readers in India who may be waiting for the release of the Samsung Galaxy S4. The phone has now been officially launched in the country and will release from today. We have all the details coming next such as price, specs and more and also wonder if some buyers who are still waiting for the official launch of the Nexus 4 may now give up and opt for the Galaxy S4.
Earlier this month we passed on some leaked information about Galaxy S4 availability in India and the dates we gave turned out to be accurate as well as pricing. The Samsung flagship Android smartphone has a price of Rs. 41,500 for the 16GB model and may well be sold cheaper as this is the MRP. This news will please many potential customers for the phone as it compares very favourably with other high-end handsets such as the iPhone 5 16GB model at Rs. 45,500 and the HTC One at Rs. 42,990 and although the HTC One has been announced it is not yet released in India.
The timely release of the Samsung Galaxy S4 will also please many in India. The Nexus 4 is a handset that many have been waiting for there, as we've documented on previous occasions, and yet it has still not been made official in India. It seems likely then that some people may now purchase the Galaxy S4 instead. The Galaxy S4 is released at Samsung's eStore today with shipping from tomorrow and a free accessory bundle for the first 400 orders. Other retail outlets will also be joining in tomororow.
The Samsung Galaxy S4 I9500 for India is powered by a 1.6GHz Exynos Octa 5410 processor while graphics are catered for with the PowerVR SGX 544MP3 GPU. It also has a 5-inch Super AMOLED display with resolution of 1920 x 1080 and 441ppi, 2GB of RAM and 16GB of internal storage, expandable via micro SD.
A 13-megapixel rear camera with 1080p video capture also features along with a 2-megapixel front-facing camera as well as a 2600 mAh battery. The phone runs the very latest Android operating system, 4.2.2 Jelly Bean skinned with Samsung's TouchWiz UI and comes in two color options, White Frost or Black Mist.
The Samsung Galaxy S4 will be a very tempting proposition for many of our readers in India and we'd really like to receive your comments on this. Are you pleased that Samsung is releasing the phone so promptly in India when many other handsets take some time to arrive? Maybe you're one of those who have been waiting for the Nexus 4 to be officially available in which case will you continue to wait or choose the Galaxy S4 instead?
Source: Samsung eStore