Samsung Galaxy S4 vs HTC One business user choice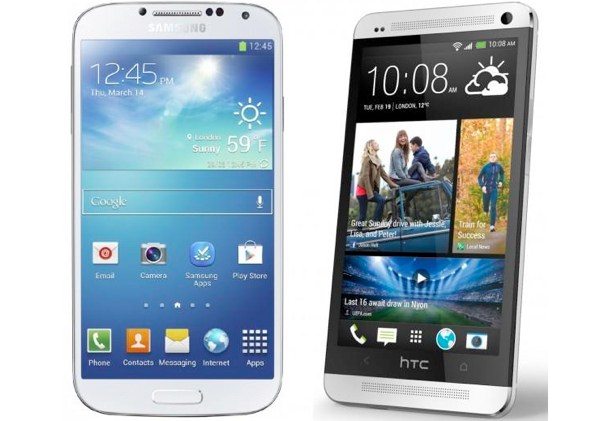 The Samsung Galaxy S4 and HTC One have both recently released and are both flagship devices. These are top-notch highly impressive smartphones that are likely to dominate the Android market for the foreseeable future and today we're looking at Samsung Galaxy S4 vs HTC One business user choice and will show what each offers to the business user.
We've previously given readers a specs comparison (see here) of these two devices but thought it would be interesting to see which would be good for professionals. The Galaxy 4 and HTC One are very evenly matched in many respects but a recent head-to-head looked at both with regards to the best option for the business power user.
When looking at the design the Galaxy S4 has been criticized for its non-premium look and feel while the HTC One has a classy aluminum build with a sleek industrial look. The display quality of both is excellent and the Super AMOLED Galaxy S4 is notable and also has Corning Gorilla Glass 3 for extra toughness, useful for those on the go. The display of the HTC One is also impressive and at 4.7-inches it has slightly higher resolution than the 5-inch screen of the Galaxy S4.
Some business users also need a good camera on their smartphones and again the Galaxy S4 and Nexus 4 both have notable offerings on this score. There are a multitude of camera features for the Galaxy S4 while the HTC One camera is better in low-light conditions. Both devices have the advantage of 4G LTE support for those extra fast needs especially useful for work use.
As far as operating systems go this is very much a personal choice and if you're going to be using the phone constantly for business use then you need to take time to get it right. Although both are Android Jelly Bean OS smartphones the Galaxy S4 has the most recent version although the HTC One will also be upgraded to 4.2.2. The Galaxy S4 is also skinned with Samsung's TouchWiz UI while the HTC has HTC's Sense 5.0 user interface. These give something quite different to each device so it may be worth heading down to a store to check out both.
The business user will also be looking for a device with a battery that can last when needed and the Galaxy S4 and HTC are both well-equipped in this area. However it's worth noting that the Galaxy S4 battery is removable while the HTC One's is not. Another thing in favor for the Galaxy S4 is that it offers expandable storage via microSD, something the HTC One lacks. An extra consideration if you're in the US is that the Galaxy S4 is offered by all of the four major carriers, AT&T, Verizon, T-Mobile and Sprint. However the HTC One is not available on Verizon.
Ultimately as both of these smartphones are so equally matched it's a pretty tough decision to make. For example, the Galaxy S4 has the advantage of expandable storage and a removable battery but for a stylish professional-looking device the HTC One is hard to beat.
It would be interesting to find out what you think of the Galaxy S4 vs. HTC One for business use. After consideration would you opt for the Galaxy S4 or HTC One? Whichever you opt for we'd like to know what your deciding factor was so do let us have your comments.
Source: Entrepreneur Via: Product-Reviews