Google X aka Motorola X phone given XFON treatment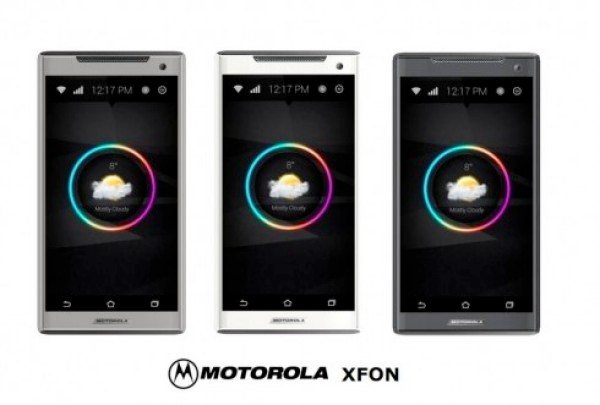 For some time now the mention of two upcoming smartphones has been making Android device enthusiasts sit up and take notice. Those are the Google X, alternatively dubbed the Motorola X Phone and also the Nexus 5. We've been bringing news on leaks and rumors for these handsets but while we wait for more we thought we'd show you a look of a Google X aka Motorola X phone given XFON treatment.
Many people have been hoping that at least one of these phones may debut at Google's I/O event later this month and that one of these will be the first phone launched running on the next major Android OS, 5.0 Key Lime Pie. However an appearance at I/O now seems less likely as they both look set for a release later in the year. We recently showed you a leaked image of a device that could be the Google or Motorola X with a codename of 'Ghost' but we cannot verify if the image is genuine or not yet.
In the meantime it's always interesting to see ideas from designers who come up with concept renderings of devices as they treat us to an idea of what could possibly come to fruition. The Motorola XFON mockup that you can see below comes from the mind of Suman Chaterjee who has imagined the device with some specs based on the rumored Google X.
We think the design of this concept Motorola XFON is pleasing to the eye and looks nicely stylish. While it would have been good to have an edge-to-edge display that we'd like to see on the real deal, it still looks sleek. Chaterjee gives specs for the XFON as being powered by a 2GHz Qualcomm Snapdragon 800 quad-core processor, a 4.8-inch display (possibly full HD), 16-megapixel rear camera and 5-megapixel front-facing camera.
This XFON also has a whopping 4000 mAh battery but rather than seeing it with Android 5.0 Key Lime Pie the designer has opted for Android 4.3 Jelly Bean that has recently been spotted. All in all it's a tasty package. Of course we'll bring you more information on the real deal as soon as we hear more news.
We'd really be interested to hear what readers think of this latest concept design. Whether the official version of the phone is eventually titled the Google X, Motorola X or indeed Motorola XFON would you like it to look like this rendering? Let us know with your comments.
Source: Concept Phones