Nokia Lumia 928 new renders and bold claim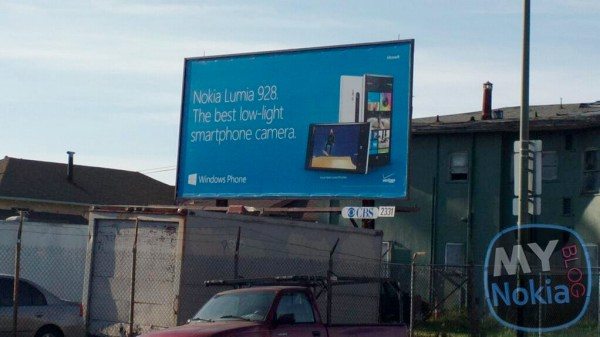 There has been a fair amount of anticipation building for the Nokia Lumia 928 smartphone and it looks as though the release is now very close indeed. A billboard has been spotted that seems to have gone up a little early for the upcoming Lumia 928 and it shows new renders for the phone as well as a bold claim about the camera of the device.
We recently told readers that accessories for the Lumia 928 have now been seen and only yesterday informed readers about a private Nokia event where an eagle-eyed observer spotted what appeared to be several Lumia 928's. The stage seems set then for an imminent announcement and now the billboard spot makes that even more likely.
Interestingly the billboard contains an image of the Lumia 928 and this render seems to be similar to previous leaked images. Verizon and Microsoft logos also appear on the ad for this Windows Phone handset. Of course we cannot verify the image that you can see below but it doesn't seem likely that anybody would take the trouble to fake a billboard ad. The rumored Xenon flash is in evidence along with a brave statement that the Lumia 928 is "the best low-light smartphone camera."
Of course making such a claim guarantees that the phone's camera will be the subject of a whole lot of scrutiny so Nokia better be sure! An exact release date for the Nokia Lumia 928 is not yet known but it certainly looks as though we'll be hearing something on that soon.
Are you waiting for the Nokia Lumia 928 to be officially announced and do you think Nokia's claim about the camera of the device will stand up? Your comments are always appreciated.
Source: My Nokia Blog