Striking Nokia Lumia 999 creation with Xenon flash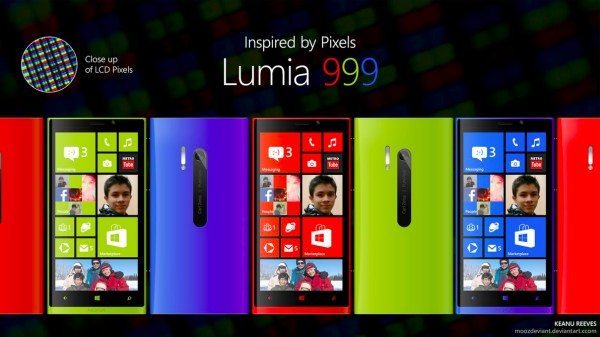 From time to time we enjoy sharing phone creations from various designers that are often so good that they make us wish they would become real devices. We think that the Nokia Lumia 999 is one of these imaginings. The striking Nokia Lumia 999 has a Xenon flash and Nokia itself may want to take some inspiration from this idea for one of its own Lumia devices.
Only a few days ago we showed you a concept rendering for a phone dubbed the Nokia Lumia 830 with a quad-core processor that we really liked. This new concept phone design comes from moozdeviant (Keanu Reeves) over on DeviantArt and as you can see from the image below it has a very angular design that appears to have hardly any curvature.
Imagined specs for this smartphone include a 5-inch full HD display with 441 ppi (the same pixel density as on the Samsung Galaxy S4) and 32 or 64GB of internal storage. The Lumia 999 also has a 13-megapixel rear camera with Xenon flash and could run on Windows Phone 8.1 Blue. It comes in a variety of bright colors including cherry, lime and indigo following the tradition of colorful Lumia designs.
We think this is an impressive rendering of a Nokia Lumia phone and even more impressive is that the designer is only 15-years-old! It would be good to have your thoughts on this mockup. Would you like to see a future Nokia Lumia device inspired by this design? Why not let us know by sending your comments.
Source: DeviantArt Via: Concept Phones