Nokia Lumia 830 with quad-core, if only it were real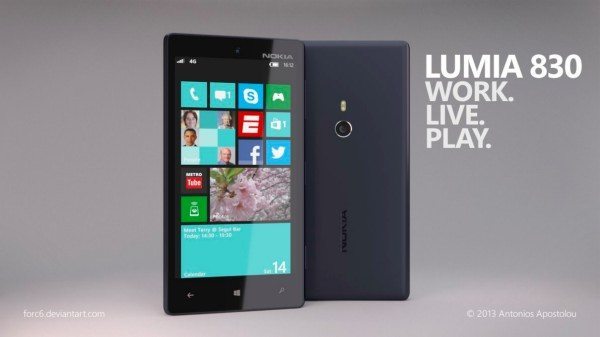 The Nokia Lumia smartphones have proven pretty popular so far and are bringing the Windows Phone operating system to a whole new audience. While we await the Nokia event in London on May 14 and wonder about the new hardware that may be revealed we thought that readers might enjoy this Lumia imagining dubbed the Nokia Lumia 830 that has a quad-core processor. We wonder if you (like us) may think, "if only it were real."
At the Nokia event next week we are hoping we may see new smartphones such as the Lumia 928 or Lumia 925 and we'll be keeping you informed about what happens at the event. Occasionally though, we like to look at phone concept designs as they can give us a feel for what we might see in upcoming devices.
The render that you can see below is for a concept phone called the Lumia 830. This slick design shows a sleek, slim handset at 8.1mm thick/thin, with an aluminum unibody build. It comes from designer Antonios Apostolou who has also given specs for his Lumia 830 mockup. Those specs include a Qualcomm Snapdragon 600 quad-core processor, Windows Phone 8 GDR3, 4.5-inch AMOLED PureView HD720p display, Super Sensitive Touch and 16GB of internal storage.
Other specs include an 8.7-megapixel PureView rear camera, 3.2-megapixel front-facing shooter, microUSB port, PureSound stereo speaker and NFC. We think this is a fine looking smartphone design with specs to match and we'd like to know what you think.
Are you a fan of Nokia devices and if so, do you wish the company would come up with something similar to this Lumia 830? Why not let us have your thoughts on this concept?
Source: DeviantArt