Samsung Galaxy S4 speed performance enhancements to make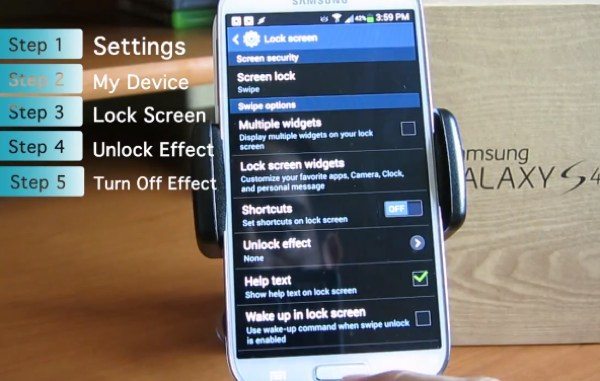 The Samsung Galaxy S4 has only just been released in regions worldwide and it's selling like hotcakes. It was virtually guaranteed success as the next in the line of flagship Galaxy S devices and this smartphone is likely to be the most dominant Android device of the year. Today we have some details for you about Samsung Galaxy S4 speed performance enhancements with a few adaptions you can make to make your Galaxy S4 even better.
Depending on region you'll find your Samsung Galaxy S4 has either a 1.6GHz Exynos 5 Octa-core processor or a 1.9GHz Qualcomm Snapdragon 600 quad-core processor, which will both do a fine job of powering your device. However if you want to do your best to avoid lag and speed the performance up as much as possible there are a few handy hints that could make a difference.
The first is to disable the S Voice shortcut. S Voice is a great voice feature and can answer just about any question you ask of it, as well as perform functions of your phone just by speaking to it. By pressing the Home Key shortcut twice you can launch the S Voice app but Laptop Magazine noticed this function being switched on caused notable lag so disabling this shortcut could make a real difference. You can do this by hitting the S Voice icon or alternatively hitting the Home button twice to launch the app and then hitting Settings. When a menu pops up tap Settings and then you'll see Open Via the Home Key. Simply uncheck the box and the shortcut will be turned off.
The next thing you can do is to turn off animations on your Galaxy S4. You may have noticed transition animations when you're navigating the phone and although they are quite appealing they can slow things down. These animations can be disabled though and although there are quite a few steps there's a helpful video that you can see below this story that will show you exactly how to do this and reduce stutter.
There's also a way to speed things up so that you can always be ready to take a photo and you can do this by setting a Camera app lock-screen shortcut. By doing this you'll be able to use one swipe to unlock straight to the camera of the phone. This can be done by going into Settings, hitting My Device at the top of the display, followed by Lock Screen. Once the Lock Screen menu is shown simply change the Shortcuts option from off to on and you'll have set a shortcut direct to the camera meaning you should never miss a shot again.
There's also a way to quickly take 8 photos in a row and this can be done by opening the Camera app, hitting Mode and then scrolling down to Best Photo. When you then press the shutter 8 consecutive images will be taken and then to save the best you need to long press on the one you want and hit Save.
Finally another enhancement to performance speed can be achieved by turning off the Unlock Effect feature. This is an attractive feature whereby you can see a lock-screen beam of light that follows your finger. It's hardly crucial though and can affect the amount of time it takes from hitting the power button to the display actually coming on. It's possible to disable this Unlock Effect feature by heading to Settings, then hitting My Device followed by Lock Screen and then tapping Unlock Effect. If you then select None it will disable that feature.
Hopefully you'll find that the performance of your Galaxy S4 is improved after carrying out the above steps. You can also see step-by-step instructions with images for each tip at the source link below. We'd be really interested to hear from readers and to know whether these hints made a difference in speed performance on your Samsung Galaxy S4? Did you find any particularly helpful? Let us know with your comments.
Source: Laptop