Notion Ink Adam 2 raises its head with so-so specs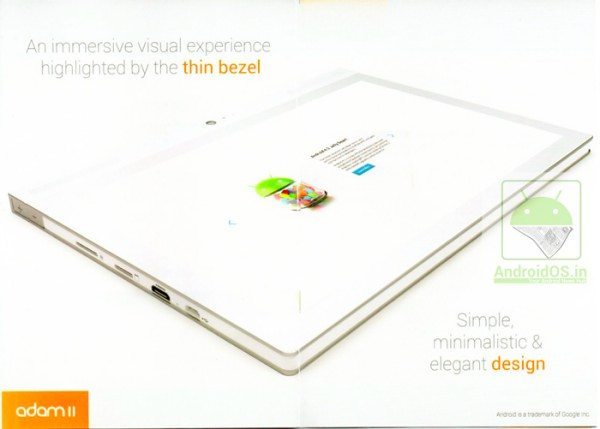 If you've heard of the Notion Ink Adam tablet then it was probably some time ago that you first started hearing about the Notion Ink Adam 2 (Adam II). Certainly we first reported on it in January 2012 and followed that up with further news on the tablet in April the same year. Then news seemed to go off the radar a little but the tablet has once again raised its head and we have some initial specs to share with you.
It's fair to say that the original Notion Ink Adam tablet was predicted to be an innovative but affordable Android tablet but that when it finally released it failed to live up to many people's expectations. The philosophy behind the Notion Ink tablet still appealed to many people though so we were not surprised to hear talk of the Notion Ink Adam 2 although we are surprised to finally hear some more about it now.
The Notion Ink Adam 2 was unveiled in New Delhi and a leaked pamphlet screenshot shows the device and some specs. We'll give you the interesting snippet later but first some specs that include a 1.5GHz dual-core processor, 1GB of RAM, microSD card slot, 2-megapixel HD rear and front-facing cameras, HDMI out and microUSB port. It will run Android 4.2.2 Jelly Bean and have a 10.1-inch IPS display with resolution of 1280 x 800.
However a twist with the Notion Ink Adam 2 tablet is that it's also said to have a secondary super-twisted nematic (STN) display to the left of the device that will be used for showing notifications and other information. Although the specs are nothing to write home about at least it looks like it is decently designed going by what we can see on the leaked image shown below.
We're informed that the Notion Ink Adam 2 will release first in India, possibly within the next few weeks, at a price of around Rs. 12,000 but for now that's as much as we know. Of course we'll pass on more information on this tablet as we hear it. What are your initial impressions on these Notion Ink Adam 2 specs? Do you like the idea of a secondary display? We always appreciate your comments so do send them to us.
Source: AndroidOS.in