Samsung Galaxy S4 in blue option carrier image leak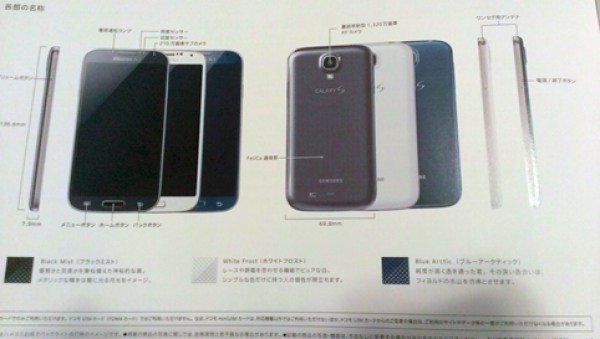 The Samsung Galaxy S4 is just releasing on multiple carriers around the world and if it follows the success of the Galaxy S3 then it's destined to be a huge hit. It is available in two color variants, Black Mist or White Frost, but now a blue option has been seen in a carrier image leak.
It's not yet known where this new color of the Samsung Galaxy S4 will become available as previously we saw many colors of the Galaxy S3 (although only 2 colors were available at launch) but not all versions came to all regions or carriers. The leaked promotional image shows the model dubbed Blue Arctic along with the other black and white versions of the Galaxy S4 and certainly livens things up a little.
One carrier that it certainly looks destined for is NTT DoCoMo in Japan as this is where the leaked image originated and it also appears they will be offering both the 32GB version as well as the 16GB model. The Galaxy S4 version for Japan has the Qualcomm Snapdragon 600 quad-core processor and May 15 looks to be the date when the new color will be announced for the carrier, with speculation that it will then release very soon afterwards. For now though we have to treat this as unofficial until we hear confirmed details.
If the Blue Arctic model of the Galaxy S4 does become official then it seems logical that it will come to more than one region even if not to all. Of course we'll let you know when we hear more on this. Would you be pleased to see this Arctic Blue version for sale in your region? Let us know with your comments.
Source: RBMen (Google Translated)