Nokia Lumia 938 imagined with specs that rock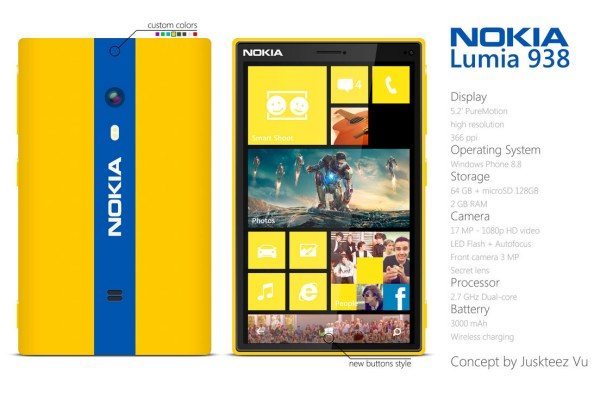 The Nokia Lumia 938 has specs that rock and steps up the size of Nokia Lumia device displays to 5.2-inches. This is a beauty of a phone but before we go any further we should tell you that this comes from the imagination of one designer and is not a real upcoming Nokia device. Nevertheless we thought it so impressive that we wanted to share it with you.
As smartphone development seems to be moving in leaps and bounds we sometimes enjoy looking ahead to future possible devices and what they could offer and this is where concept phones can really give us some great ideas. The Nokia Lumia 938 was designed by Juskteez Vu and not only looks stylish (if rather boxy) but also has some mind-blowing specs.
You can see an image of Vu's concept design below this story and his envisioned Lumia handset is powered by a 2.7GHz dual-core processor, with a 5.2-inch PureMotion high resolution display with 366 ppi, 2GB of RAM and 64GB of internal storage expandable to a whopping 128GB via microSD.
It also has a 17-megapixel rear camera with 1080p HD video recording as well as autofocus and LED flash as well as a front-facing 3-megapixel camera with secret lens. As well as all this the Nokia Lumia 938 has a 3000 mAh battery and wireless charging support and runs Windows Phone 8.8.
We think fans of Nokia's Lumia smartphones would love to see a Lumia phone with a larger display and would love to hear what you think about the Lumia 938. You may also be interested in another Nokia Lumia concept that we recently showed here.
If the Nokia Lumia 938 were a real smartphone from Nokia would you purchase it? What appeals to you most about this concept design? Let us know with your comments.
Source: DeviantArt