Samsung Galaxy Tab 3 8.0 specs & supposed image appear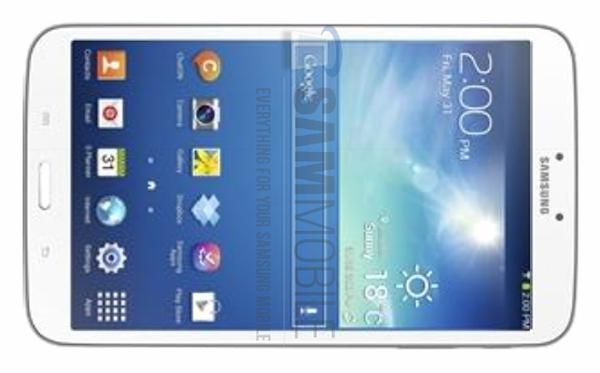 Samsung has a number of different devices in the Android tablet PC market with new products being released all the time, and now the Samsung Galaxy Tab 3 8.0 has supposedly appeared along with some specs for the device.
The company recently announced the 7-inch Galaxy Tab 3 and now the image that you can see on this page has emerged via SamMobile along with some specifications that are supposedly an 8-inch version of the Galaxy Tab 3.
It is being claimed the device will feature an 8-inch touchscreen display with a resolution of 1280 x 800 and will feature some sort of dual core processor under the hood running at a 1.5GHz clock speed and coupled with 1GB of RAM.
There is 16GB of on board storage with the usual Samsung microSD expansion capability, 5-megapixel rear facing camera, and a 1.3-megapixel unit placed around the front of the tablet PC. It is also being claimed that the device will only measure 6.95mm thick and will come in Wi-Fi and Wi-Fi with 3G flavours.
There is no exact release information given except it is expected to be available by the end of next month, and the device is likely to go up against the slightly smaller new version of the Nexus 7 that has possibly just been seen in a video.
Fans of the Android platform are certainly being spoiled for choice when it comes to choosing a new tablet PC with a huge variety of devices at varying price levels becoming available.