Nokia Lumia 928 vs Galaxy S4 vs iPhone 5 low-light ad comparison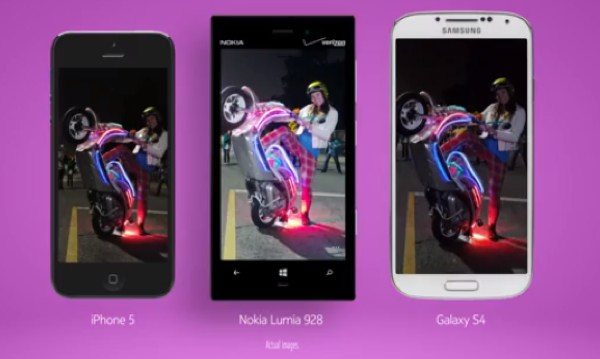 It's not long since the Nokia Lumia 928 smartphone was officially announced for Verizon and it's attracting plenty of interest. This is a Windows Phone 8 handset and should appeal to plenty of customers on Big Red and one of the highlights of the phone is its high-performing camera. That's why today we thought we'd bring you a look of a new ad for the Lumia 928 vs, Galaxy S4 vs. iPhone 5 that shows off the low-light capabilities of the Lumia 928.
For more on this phone check out our review roundup for specs and camera information while yesterday we also posted some Lumia 928 videos for your delectation. However another video has come to our attention today this time from Nokia and WindowsPhone and this one concentrates entirely on the Lumia 928 camera and its performance in low-light conditions.
These three handsets all have impressive camera set-ups and recently smartphone cameras have seen huge advances especially with low-light photography as cameras can enable more light in because of lower f-stop readings. Nokia has seized its chance to show off the Lumia 928 in a new TV ad and you can see the ad in the YouTube video below this story.
As you can see the ad displays the Lumia 928 low-light video and photo proficiency in all its glory and at the end you'll see the results of the Lumia 928, Galaxy S4 and iPhone 5 when taking a picture without flash. Of course as you'd expect from a promotional ad for the Lumia 928, it looks pretty superior but with this device we reckon it's a very true representation.
This may be a short video but it does look as though Nokia has a smartphone camera to be proud of and we'd like to hear from readers about the Lumia 928. Will you be purchasing this phone on Verizon? If so, is that because of the impressive camera on the phone or maybe something else attracted you more?