Android 4.3 new features explored in videos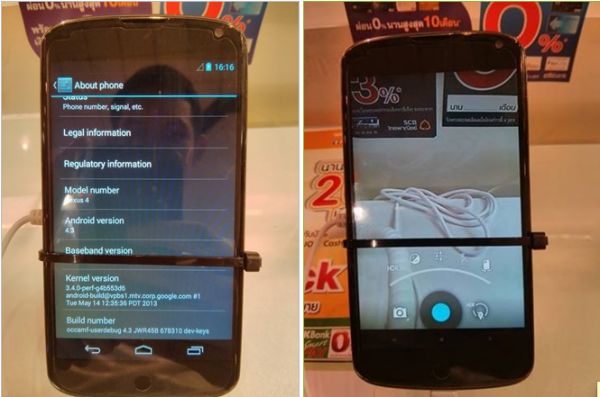 As we know Google did not unveil Android 5.0 Key Lime Pie at the Google I/O event, but it is expected to release later in the year. It has been said that Android 4.3, which will have a few minor updates is expected to come before KLP 5.0, but even this was not announced.
It is not known if Android 4.3 or Android 5.0 will release first so we will report what we know so far, below we have added a few videos covering Android 4.3 including a brand new one showing Android 4.3 running on the Google Nexus 4 with featuring a new camera app.
The new Android 4.3 according to reports not so long ago suggested by Bluetooth SIG informed tech bloggers that the new operating system could support low-energy 'Bluetooth Smart' — please read more about this here.
One of the videos below shows off the Google Nexus 4 running Android 4.3 with an updated Camera UI, this was found by XDA Developers Forum members challeen" and innocent36 at the Thailand Mobile Expo 2013.
The Nexus 4 in the video running Android 4.3 does not show much other than the new Camera app that features a new action area as well as toggles for contrast, white balance, HDR, rotation and a few other things. Welcome to the new Easter egg menu showing off Android 4.3 Jelly Bean — Does this mean it will be called Android 4.3 rather than being named Key Lime Pie, or is this a simple update before KLP is released?

The Nexus 4 in the video shows a pre-release build JWR45B and a baseband string of m9615a-cefwmazm-2.0.1700.74, and we know for sure this has not been used anywhere, not as far as we know anyway.
Please watch the videos we have provided below
We also reported news covering the Samsung Galaxy Note 3 prototype running Android 4.3 in AnTuTu benchmark tests, the handset got a score of 27,914 points. The screenshot we showed did not reveal anything really other than its model name of GT-7200 and that it was running on a 1.6GHz processor — Please read more here.
There is not a lot of information on Android 4.3, please do watch the videos below to get an insight of what people think around the world, thank you. We would love for you to comment if you know anymore.