Nokia tablet conjuring introduces the Tana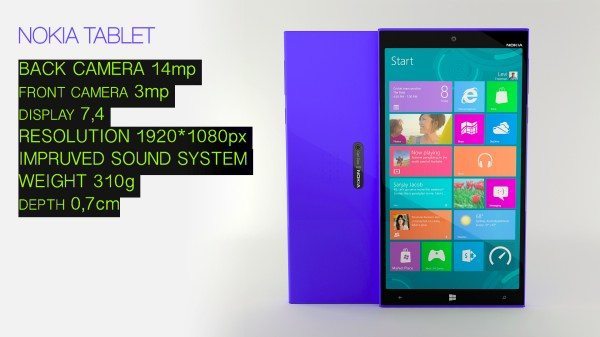 There has been a lot of talk lately regarding a possible Nokia tablet and it seems this is a device that many people would like to see. Today we have a Nokia tablet conjuring to show you that has been dubbed the Nokia Tana and is loosely styled on the Lumia smartphones. We'd like to know if you'd be interested in such a device if Nokia itself came up with it.
It's always interesting to see concept designs for devices and only a few days ago we showed you another Nokia tablet concept, this time with the moniker the Nokia Lumia 1. This latest imagining comes from designer Juri Karasjov and the tablet is designed very much along the lines of a smartphone. Whether that's a good idea or bad idea may divide opinion.
You can see an image of the Nokia Tana tablet below and some specs have also been provided that would please many prospective customers. They include a 7.4-inch display with resolution of 1920 x 180, a 14-megapixel rear camera featuring Carl Zeiss technology, 3-megapixel front-facing camera and heightened sound system.
The Tana concept is only 7mm thick or thin, whichever way you want to look at it, weighs 310g and has width borders of only 0.5cm and borders of 1.4cm at the top and bottom. It also has capacitive Windows buttons below the display making it easier to handle in portrait mode as opposed to the landscape position. We're not sure tablet buyers would like that aspect of this tablet and think it unlikely that a real Nokia tablet would be designed in such a way.
Nevertheless it's an interesting look at the Nokia tablet idea and some of the specs would be very pleasing. We'd really like to know what you think about the Nokia Tana tablet and ask, if this were ever to become a real device, whether it would interest you? Let us have your comments on this.
Source: Juri Karasjov