Samsung Galaxy S4 Mini release date imminent after proof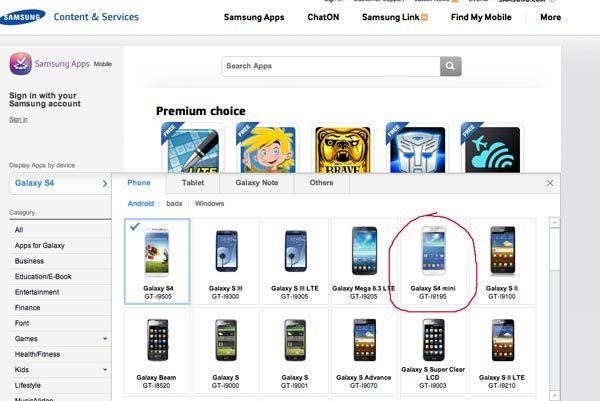 Before any new smartphone launches you would expect the brand to update their systems behind the scenes, although sometimes certain clues arrive early thanks to systems revealing something they shouldn't. The Samsung Galaxy S4 Mini release date has been expected since it's a natural progression considering the last generation, but today it seems even more likely following some proof on an official website.
The screenshot seen under this article reveals the Samsung Galaxy S4 Mini on the brands official apps website, which is found when selecting what device to display apps by. Under the phone tab you will see a number of smartphones, but as we highlighted in the screenshot one selection states "Galaxy S4 mini GT-I9195".
It is understandable that this information would be needed within Samsung's systems before the Galaxy S4 Mini release, and it isn't the first time details have gone live too early. We have seen this previously when an update has occurred for a store that resulted in accidently revealing something it shouldn't.
We now wonder if Samsung will remove the reference to Galaxy S4 Mini, or just leave it there if the release date is moments away. Our bet is this reference will disappear later today or Monday. Take a look at the apps page here and click "display apps by device" on the left.
Are you interested in the Samsung Galaxy S4 Mini, and if so what price point would you like to see? We did see some photos leak earlier this month, which hinted a launch date of May 30, so it is still very possible that this reference to Samsung's Galaxy S4 Mini is here to stay with a release date falling next week. Feel free to leave your wish list for specs in the comments.
Update: Samsung has removed the reference to Galaxy S4 mini.