iPhone 5S or 6 could measure closeness of ear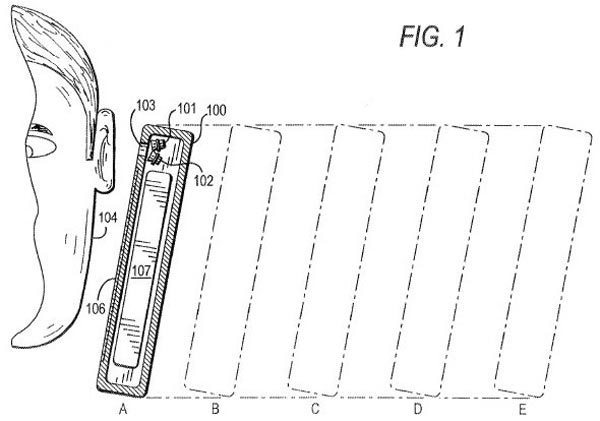 We have made it clear that lack of evidence in Apple's supply lines points towards an iPhone 5S release date no sooner than in 3 months time, which could also be called iPhone 6 although this name might be saved for a 2014 launch.
Today, we have found a patent that appeared on the official United States patent website within the last 24 hours, but was first filed almost 5 years ago. This filing reveals some technology for measuring how close your ear would be to the iPhone 5S, or iPhone 6, and then automatically changing the volume.
You can see an image below this article from the patent filing, and the description for this Apple patent explains that the "acoustic transducers" can be adjusted depending on the device "proximity to the user". Take a look at the patent details on this US patent website, or in the image below, and also look at the diagrams that seem to reveal a device, which is most likely an iPhone 5S or iPhone 6.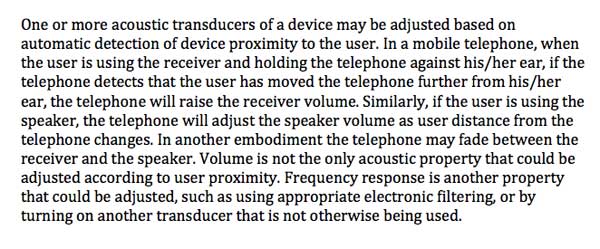 It is not clear if this would be for a handset releasing in 2013, 2014 or if in fact it would ever arrive on any future handset. While this technology could never see the light of day, we are confident it is planned for the iPhone 5S or 6 release date. This is due to the fact that a 2008 filing has only been revealed now, and the description explains the proximity sensor works when a user is "holding the telephone" close to an ear.
Apple made it clear this patent is for a phone and not a tablet, which makes sense considering the design shown within the patent images. It is also worth noting that this patent explains an advanced proximity senor that is much more than just for "volume", and this is detailed with "frequency response" being another property gaining adjustment through this sensor. Take a look at the full description in the image above.
Would you like an advanced proximity sensor included within the iPhone 5S, or 6, specs? You might also want to read about the possible iPhone 5S pixel resolution that could hint towards a phablet display size.
If you're not sold on the possible iPhone 5S features contained within this patent, then feel free to leave a comment with your most wanted specs and features. Personally, we'd love to see iPhone 5S or iPhone 6 battery life take top spot for Apple's priorities when they launch the next generation.