Samsung Galaxy S4 vs Nokia Lumia 928, no regrets comparison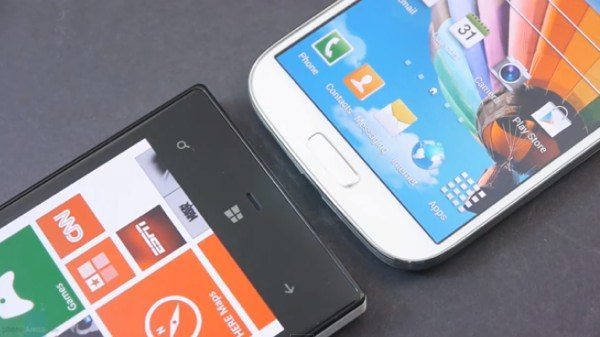 There are plenty of impressive devices around right now and two of them are the Samsung Galaxy S4 and the Nokia Lumia 928. These two smartphones run different operating systems but those who don't mind which OS they use may be undecided between the two. Today we spotted a really useful Samsung Galaxy S4 vs. Nokia Lumia 928 video look that could really help you to decide which may be best for you and to be frank it's a no regrets comparison.
The Galaxy S4 is available in regions worldwide on various carriers including Verizon in the US while the Lumia 928 is a Verizon phone based on the internationally available Lumia 920. Firstly we'll give you a brief recap of the major specs of each phone so that you already have some idea when you view the video below.
The Samsung Galaxy S4 has either a 1.6GHz Exynos Octa-core processor or a 1.9GHz Qualcomm Snapdragon 600 quad-core processor, dependent on region. It has a 5-inch Super AMOLED display with 1920 x 1080 resolution, 2GB or RAM and either 16, 32 or 64GB of internal storage, expandable via microSD. It also has a 13-megapixel rear camera, 2-megapixel front-facing shooter, 4G LTE support (where applicable) and 2600 mAh battery and runs the Android 4.2 Jelly Bean operating system skinned with Samsung's TouchWiz UI.
On the other hand the Nokia Lumia 928 has a 1.5GHz Qualcomm Snapdragon dual-core processor, a 4.5-inch AMOLED display with resolution of 1280 x 768, 1GB of RAM and 32GB of internal storage (non-expandable). It also has an 8-megapixel rear camera, 1.2-megapixel front-facing camera, LTE support where applicable and a 2000 mAh battery. The Lumia 928 runs the Windows Phone 8 operating system.
At a first glance of the specs it's pretty easy to see that the Galaxy S4 has the upper hand. However, it's not all about the specs and the phones also have varying features to consider. Although we'd still have to say the features of the Galaxy S4 are far superior the PureView camera of the Lumia 928 is a bonus. (You might want to check out a previous post on a look at these two phones as well as the iPhone 5 in a video that shows low-light performance). The price factor is something you may also want to take into account as befitting its specs the Lumia phone is much cheaper. The Galaxy S4 is priced at $199 on a two-year contract with Verizon and the carrier is selling the Lumia 928 for only half of that price, at $99.
The 12-minute video below considers virtually every aspect of these two devices and discusses pros and cons along the way as well as giving you a really good look at both devices. It goes over the design, displays, shows the ports, cameras and gives a rundown of the specs. It then goes on to talk about the operating systems, processor performances and features before the ultimate conclusion.
The Lumia 928 may not be able to compete against the Galaxy S4 on features and specs but is still a very decent handset at an affordable price. Nevertheless the extra money for the Galaxy S4 seems well worth it for what it offers although much of your decision will really be down to whether you prefer the Android experience of the Galaxy S4 or the Windows Phone experience of the Lumia 928. Either way you should have no regrets with either handset as long as you choose the one that will suit you best.
We'd really appreciate your views on these two handsets. Does the Samsung Galaxy S4's specs and features win it hands down for you? Maybe you feel that the lower price of the Nokia Lumia 928 makes it worth considering? Once you've taken a look at the video below please let us have your comments.