Samsung Galaxy Note 3 code confirmation of possible existence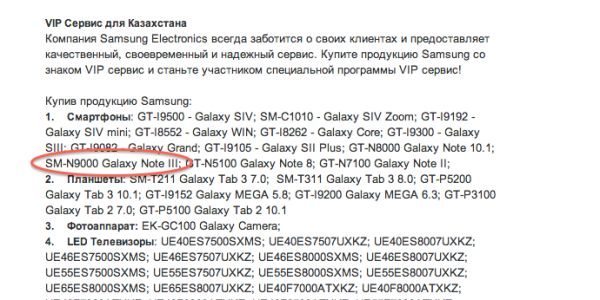 The Samsung Galaxy Note 3 is a little secret we all want to learn about, but until the official announcement we have to sit patiently. However, the new 'Galaxy Note 3' aka SM-N9000 has popped up online in a country you never thought it would show up.
In all the countries in the world you would think that the SGN3 would pop up on Samsung systems in the USA etc, thanks to Techtastic they have a screenshot (Shown Below) of the Samsung Galaxy Note 3 code on the Samsung Kazakhstan website.
The page found shows a special VIP-service, which we have no idea what this is, but it also shows more things other than the Note 3.
It shows announced products such as the Galaxy Tab 3 10.1 aka GT-P5200, as well as the Galaxy S4 Zoom (SM-C1010).
Could this really be the Samsung Galaxy Note 3?
For now we can just look at the screenshot and ponder with our thoughts, guess we will have to wait until IFA 2013 in Berlin, which could be where the phablet will be revealed, but then again Samsung are known to house their own Broadway like event — you know, like the Samsung Galaxy S4 event.
Samsung Galaxy Note 3 ex-SPEC-tations!
So far to date we have heard specs for the SGN3 to include a 13-megapixel camera, 2.3GHz Qualcomm Snapdragon 800 processor, LTE, 5.99-inch display with 1080p resolution, but it could be a 6.3 or similar like the Samsung Mega 6.3, S-PEN support, TouchWiz and Android 4.2.2/4.3, be nice to have Key Lime Pie.