iPad 5 and not mini 2 in risky release expectation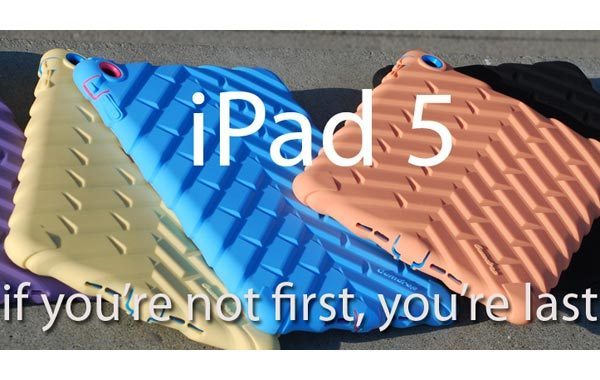 We revealed some insight into the anticipation for an iPad 5 and iPad mini 2 release date, which paired with the Nexus 7 2 points to some consumers eagerly waiting for the next generation of tablets.
One thing we would never expect is for Apple to showcase the iPad mini 2 and iPad 5 at WWDC 2013, and then set a release date for some point in June. It would make sense for Apple to separate the launches for the 10-inch iPad 5 and smaller iPad mini 2, although seeing an accessory manufacturer building iPad 5 cases for launch after WWDC seems very risky.
This is exactly what Gumdrop Cases predicts after following iPad 5 rumors and listening to their so-called insiders. It isn't the first time this brand has risked it, and they did something similar with the iPhone 4S and ended up getting it very wrong.
Apple iPad 5 win-win for Gumdrop — if they get it right, then Gumdrop Cases will be one of the first brands to offer protection for the new iPad 5 in June. If the release date isn't in June, and rather in fall like most people predict considering a lack of production rumors, then some people believe Gumdrop still win thanks to the free publicity.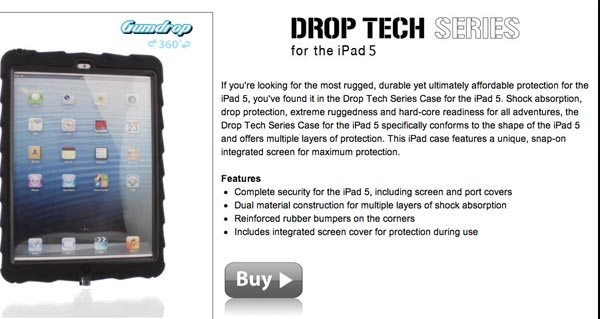 Bottom-line: most consumers wonder why anyone would care, especially considering the iPad 5 will no doubt be lighter, thinner and faster thanks to expected evolutionary steps. WWDC 2013 starts next week, so we don't have long to find out if the iPad 5 will launch at the event with a release date in June. In our opinion, it won't happen unless Apple finally managed to keep their suppliers silent and this is unlikely.
Gumdrop iPad 5 cases — you can see the product page here with the tagline "if you're not first, you're last". This reveals exactly why the brand is betting on iPad 5 at WWDC 2013, but it is also worth noting they would have likely made just a small number of cases and won't be investing a lot until final confirmation. This is more of a marketing ploy in our opinion.
This iPad 5 cases main features include: integrated screen cover, reinforced rubber bumpers on the corners, dual material construction with many layers of shock absorption, and comes with complete protection for you Apple iPad 5, which includes port covers as well.
You can also see a hands-on review with these iPad 5 cases on a popular technology blog, although it is good to remember that this product is not based on the official iPad 5 specs and rather from rumors and apparent insider information.
Do you think the iPad 5 will launch at WWDC 2013? If not, we wonder how Gumdrop will feel when getting it wrong unless it's part of their marketing plan.