WWDC 2013 video stream live in app screenshot only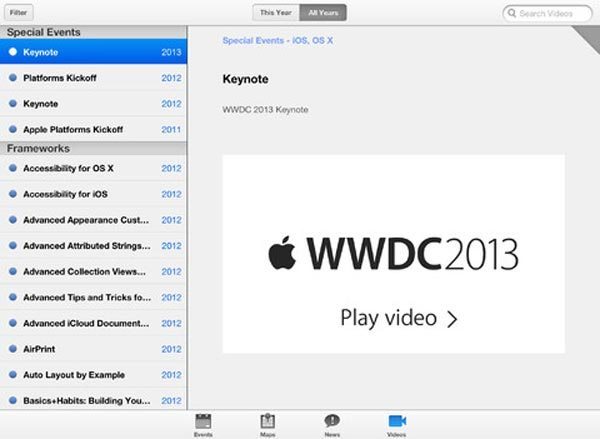 With just over one day to go until WWDC 2013 it wouldn't surprise us if some people were looking for a live WWDC 2013 video stream already. This is something we have been doing for our readers in the hope that Apple will do something similar to the iPhone 5 announcement last year, which featured live streaming on Apple TV.
We noticed something strange in the WWDC 2013 app when looking for a live video stream, which can be seen in the screenshot below this article. You will notice the official screenshot shows the WWDC 2013 keynote and a link to "play video", although after downloading the app we could only see the 2012 events and those previously. In fact, there's no events listed for 2013 at the time of writing.
This is obviously just an update to the screenshots when v1.0.1 went live 2 days ago, although it did make us download the app right away. How about you? Did you notice the WWDC 2013 keynote video showcased in the official screenshot on the iTunes page, and did this make you download the app?
You can see a number of options for seeing the news as it breaks in these WWDC 2013 live blogs, and that page also contains a link to where the keynote video will be live to watch after the press conference. It is now obvious that the videos will appear in the app as well, as seen within the screenshot below.
If you want an option online for viewing the WWDC 2013 keynote video the moment it goes live, then we recommend you subscribe to the Apple Keynotes podcast. The special event will go live there the moment it's available to download. We also listed some videos earlier today that look at a number of rumors and predictions for the June 10 event.
At the time of writing it doesn't look like there will be a WWDC 2013 live video stream, so you'd have to make do with the keynote video options above, although if the situation changes we will make Phones Review readers one of the first to know about it.