iPhone 5S claimed front frame gives hints

If you are one of the many people waiting for the iPhone 5S release then we have news that may interest you today. The closer we get to a release the more leaks we are hearing of, and today we have an image to show you that purports to be of the front frame of the iPhone 5S. This was apparently leaked by somebody at an assembly line at a subcontractor to Foxconn, and if it is genuine then it gives some clues.
This comes hot on the heels of yesterday's news regarding a possible disruption to the release of the iPhone 5S along with some more leaked images of component parts. Of course we have no way of verifying if the image below is authentically of the iPhone 5S frame. However, if it is the real deal then it's promising news that at least the iPhone 5S is partly in production.
Although many people are hoping to see the Apple iPhone 5S make its debut at Apple's WWDC event that begins tomorrow, we still feel this is unlikely and that a fall release date is more plausible. However, while we are waiting it's interesting to see these leaks and try to glean some information from them. For instance, there have been rumors that the iPhone 5S may have an increased display size from the iPhone, 5 but this front panel, if genuine, dismisses that idea.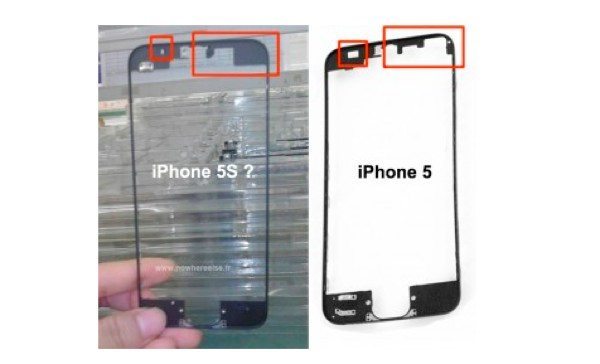 As well as this, the alleged front frame indicates that the sensors gathered around the earpiece would be in changed positions. For some time now we have expected the next iPhone to have a better camera, and this revamped front frame also suggests the potential for that. The images that you can see here come from a French source that has on occasion supplied some accurate information on forthcoming Apple products. However, as we said previously, we cannot confirm the authenticity of the images at this stage, and it's always possible that they could be fakes or even from a cheap iPhone copy.
We'd really like to hear your views on the iPhone 5S and the possible indications from this claimed front frame. Are you hoping that the hints of a changed camera are accurate? Maybe you're disappointed that the next iPhone appears to be sticking to the same size of display? Let us know by sending your comments.
Source: NowhereElse.fr (Google Translated)