Official iOS 7 AirDrop vs Samsung S Beam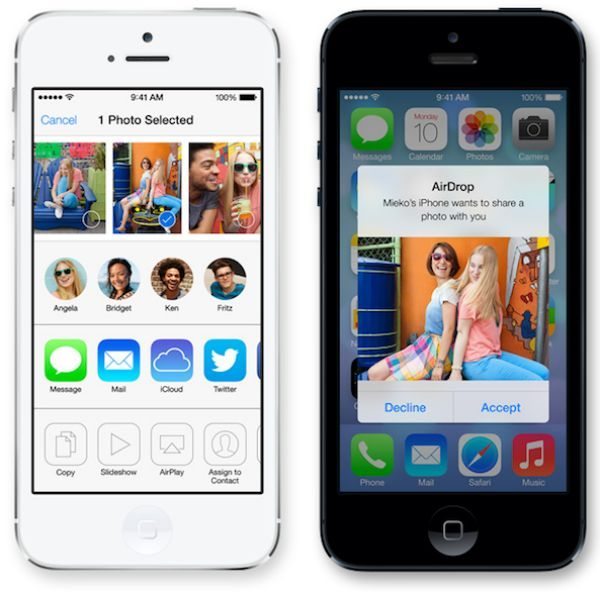 You could call this a case of innovation wars between two giant names aka Apple and Samsung, and we can see Android and iOS fans not agreeing. After watch WWDC 2013 live Craig Federighi took the stage and whilst doing his talk he sort of let slip a slight hint towards Samsung by saying "No need to wander around the room bumping your phone with one another."
Apple announced its new iOS 7 AirDrop feature that will be releasing on the iPhone 5, 4th Gen iPad, iPad Mini, and the 5th generation iPod touch, some emails have already come in to Phones Review saying surely this is a iOS 7 AirDrop vs Samsung S Beam game.
The emails did not state they were iOS or Android users etc, so we cannot judge on any of this. But, we can say AirDrop is a great feature and no bumping of phones is needed unlike S Beam. We are not hear to slander AirDrop or S Beam, we want to provide you with the latest news about the new AirDrop feature that will be released in the fall with iOS 7, developers will get it today in the new beta test.
The iOS 7 AirDrop feature will work in the same way AirDrop on Mac works thanks to the same P2P abilities, AirDrop works without any network or set up requirements. If you want to send a file to someone or multiple people all you need to do is select that person/s and click the share button, all transfers are encrypted and works on either Bluetooth or WiFi.
AirDrop can be accessed via the new Control Center, which works when you swipe from the bottom of the screen upwards, which is the opposite way you would open notifications by sliding from the top of the screen downwards, we will talk a little more in another article about the Control Center.
Samsung S beam found on many Android devices works by touching phones, similar to the iOS Bump app but more efficient, we have used S Beam on many devices such as the Galaxy S4 and cannot fault it. But, we have to say AirDrop seems to be a little more refined and more practical, we will let you decide this one.
Matthew Miller via ZDNet talks a little about Samsung adding new features that are great in ads/commercials etc, but rarely get used after the initial trials, what he has to say is worth reading, maybe you would agree or disagree.
AirDrop vs S Beam: What one is more practical?