Samsung Galaxy Note 3 in fresh image that shows size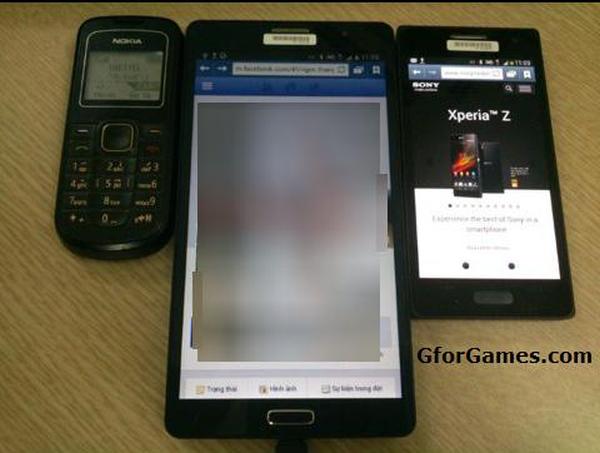 You can always tell that we are getting closer to a major smartphone release due to the fact that the rumour mill surrounding the device kicks into overdrive, and that certainly can be said about the upcoming Samsung Galaxy Note 3 that has appeared in a fresh image that clearly shows the size of the alleged device.
We recently saw what was supposedly the prototype for the yet to be announced Samsung Galaxy Note 3, and the image you can see on this page courtesy of GforGames again shows what is supposedly the new phablet device from Samsung alongside some other handsets.
The handset looks identical to what was seen over the weekend but this time it is appearing alongside an ancient Nokia handset, and possibly another Samsung prototype smartphone. Again it is being claimed the device will use a 5.9-inch Full HD Super AMOLED touchscreen display, which looking at the recent images is quite possible.
Of course even if this is a real Galaxy Note 3 prototype there is no guarantee it will resemble the final design that is eventually released to the general public. The hype surrounding the device is reaching the levels seen leading up to the launch of the Galaxy S4 with numerous rumours emerging about the handsets specifications.
There are more Android fans that want to make the switch to a phablet device and may have passed up on getting the Galaxy S4 in favour of the Galaxy Note 3, and hopefully Samsung won't disappoint when it finally reveals the device in a few months time.
Did you decide to get the Galaxy Note 3 instead of the Galaxy S4?