iPhone 5 vs. 4S battery life, drain on iOS 7 fixed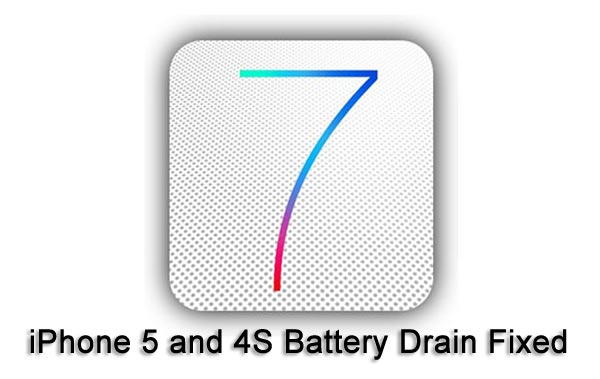 Last week you might have seen our article taking a hands-on look at the iPhone 5 vs. 4S battery life with the latest iOS 7 beta. During this test with iOS 7 it was the iPhone 4S battery life that raised a few questions, and this handset suffered bad battery drain after installing the latest software.
You can see our findings in the previous article, but in a nutshell the iPhone 5 performed almost perfectly for battery life while the iPhone 4S drained extremely fast. Our article received a lot of feedback from iPhone 5 and 4S users experiencing battery drain problems on iOS 6, and after we looked into the iOS 7 issues it became evident how to fix the loss of battery life.
Fixing battery life once new software installed – after spending many hours with the first iOS 7 beta on both iPhone 5 and iPhone 4S, our tests revealed a massive difference in battery performance. This is something we experienced previously after installing iOS 6 for the first time last year, and feedback from our readers shows this is an issue for many iPhone users.
It became obvious that in most cases this is not a hardware problem and happens a lot after installing an iOS 6 update, or in our case a major update with iOS 7 beta 1.
Our tests revealed battery drain on an iPhone 4S and our iPhone 5 installed iOS 7 with no battery life problems at all, although we expect this was more luck that a difference in hardware. Our tests showed that the issue could happen randomly depending on install conditions, although there's a simple way to make sure you can install iOS 7 without battery life drain.
Installing iOS 7 on iPhone 5, 4S without battery drain — the way we fixed the major battery life problems experienced initially on two of our development iPhones was quite simple, but shouldn't have to happen if Apple manages to fix this issue at some point.
We performed a backup of our iPhone 4S and iPhone 5, and then we performed a clean install of iOS 6 by entering iTunes in DFU Mode. This is achieved by holding down the Sleep/Wake button and Home button, then once the Apple logo appears you keep hold of the Home button only until iTunes pops up with a message about an iPhone in recovery mode.
Once we installed a fresh copy of iOS 6, then we install iOS 7 beta and after this the settings and data were restored from a backup. It is worth noting you can downgrade to iOS 6 from iOS 7, but you need to have a backup of your phone in iTunes with iOS 6.
Bottom-line: our iPhone 4S battery life drain was major and drained completely in just a few hours, but this was fixed after a clean install and then restoring the backup. There's no doubt that battery life drain happens in most cases thanks to restoring backups without a clean install first.
Do you have battery life problems on your iPhone 5 or 4S? Have you tried to perform a clean install first before upgrading iOS? Just make sure you have everything backed up before wiping any data. One way to tell it's definitely software and not hardware causing battery issues would be with a clean install and test the battery life before restoring a backup.