Nexus 7 upgrade with Android 4.3 to challenge iPad mini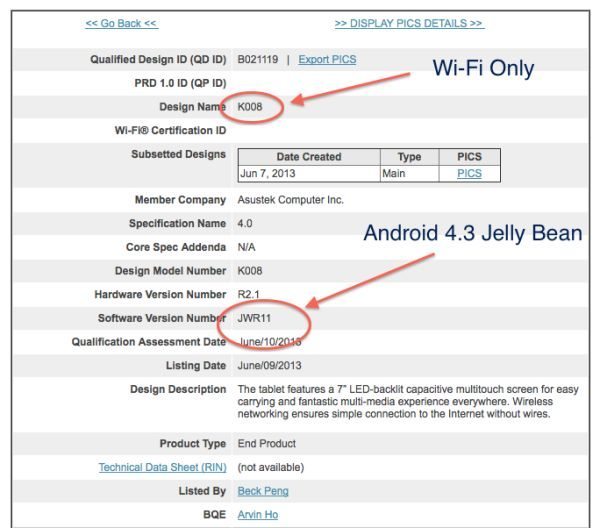 The Asus K008/K009 entered the Bluetooth SIG last week and now the FCC filing has uncovered a new Asus Nexus 7 tablet running the unreleased Android 4.3 operating system.
The images shown below courtesy of TechTastic shows a few details about the device, which suggests it is the Nexus 7 upgrade. It lists both the Asus K008 and K009, which are the Wi-Fi only and GSM-ready variants with either a 1080p or 1,920×1,200 resolution display, and that says it will be a noteworthy upgrade over the existing Nexus 7.
The components list shows a few things worth looking at, it suggests 32GB of storage, Adreno 320 GPU, Qualcomm Snapdragon S4 Pro, 2GB of RAM, 5-megapixel rear camera and a 1.3-megapixel front camera.
Other specs are to include Wi-Fi, LTE, NFC, dual-band 802.11n and potential support for the Qi wireless charging standard.
If these specs mentioned above for the Asus Nexus 7 upgrade are correct it surely means a new tablet to take on the iPad Mini, could this be the Nexus 7 2 we have been talking about for a while?
It has been suggested the new Nexus 7 could come with a thinner screen bezel at around 8mm thin, but for now Google and Asus have not made anything official yet. Time will tell and we will notify our readers as soon as we know more, please do comment.

Could this be the new Nexus 7 2 that will potentially take on the iPad mini 2?