iPad mini 2 vs. Nexus 7 2, normality vs. release tactics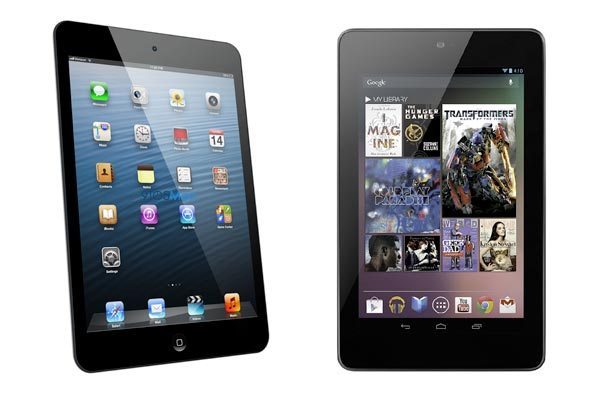 When it comes to the iPad mini 2 release date you can count on one thing from Apple, and this is the fact that they won't let outside pressure change their plans for a launch date. Considering the second generation is due around October, one year after the first, we don't expect Apple to change this release window by much for the iPad mini 2.
This is not only the way Apple handles its new product launches, but they are the market leader when it comes to tablet PCs. If anyone has to be tactical when it comes to releasing a tablet, then this would surly be the other brands to stop losing sales to the number one selling tablet.
iPad mini 2 vs. Nexus 7 2 after price update — it would also be fair to point out that thousands of potential tablet buyers will be looking at the price, and when it comes to Apple they're known for not being too fussy about delivering a higher price.
We recently heard some details in regard to the Nexus 7 2 price and release date, which the price is expected to be just under $230 with a release in July. This would give Google's second generation Nexus 7 a 3 month lead on Apple's iPad mini 2, although we have a feeling a lot of our readers already know the tablet they want.
If you're concerned about price then the Nexus 7 2 will be a favorite, although a lot of our readers wouldn't want an Android tablet for a lot of reasons and would gladly pay a higher price to gain the iPad mini 2. It is also worth noting that the iPad mini launched last year with great success, which was thanks to a much lower price point for an iPad. You can expect the iPad mini 2 to receive a price around the same as the first generation, although it will obviously contain new features and specs.
Early launch myth – the latest launch rumors for iPad mini 2 and even an iPhone mini point to an August release, although in our opinion these rumors have arrived on some blogs that continually contradict themselves, so don't expect the new iPad mini 2 for another 3-4 months.
In our opinion, Google could grab a lot of people looking to purchase an iPad mini 2 if they launch the Nexus 7 2 a few months earlier with a low price and amazing specs. There will be shoppers just browsing stores and then picking up one just because it is there. This will lose Apple some sales but then it is good to remember a lot of consumers will only go Android or iOS, so decisions have been made already without the specs being made public.
Does it make a difference to you what comes first – the iPad mini 2 or Nexus 7 2? We would also love to know if you think either Google or Apple need to be tactical with these tablet launches, so leave a comment below with your thoughts.