iPad mini 2 vs. new Nexus 7 tablet, price the major factor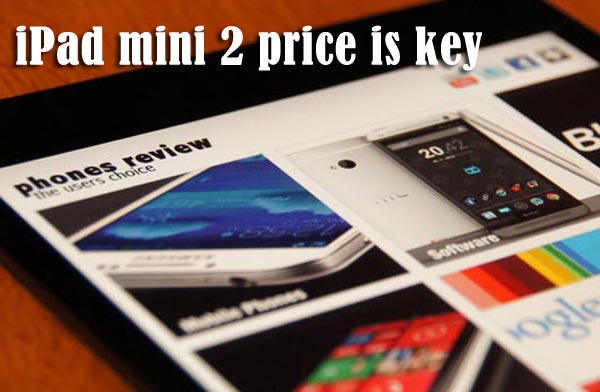 Today, we wanted to highlight something that has become extremely clear when bracing for future comparisons between devices like the iPad mini 2 vs. a new Nexus 7 2nd generation tablet. This is the consideration of price for a 7 to 8-inch tablet, which we know is not only an important factor for the brand creating these tablets, but also for the user purchasing them.
Some Apple users turn a blind eye to the price, to a certain extent, and these loyal users go for Apple thanks to years of trust, hardware/software reliability and the fact you can't get iOS on another tablet. Apple isn't for everyone, but it seems some people will pay more money just to get what they offer.
Personally, we have an iPad mini, full size iPad and Nexus 7 in the office and love all the tablets. You cannot deny each tablet has reached a good amount of success in their on right, although the user is looking for key factors when looking at rumors for iPad mini 2 and the Nexus 7 2.

New Nexus 7 tablet price expected to deliver – one of the biggest deal breakers for Android users is price, and recent feedback Phones Review has received from our readers makes this very clear. One user explained "I'll take two 2nd generation Nexus 7's and give one to my wife for the price of one iPad mini 2".
When looking at the expected iPad mini 2 price point, another reader stated, "You can be sure the iPad mini 2 will be more than $249". Android fans can't seem to look elsewhere when expecting the Nexus 7 2 specs to include 2GB of RAM, Android 4.3, guaranteed Android updates and a Qualcomm 800 at a price less than iPad mini 2.
When looking at the expectations for a new Nexus 7 tablet and the iPad mini 2, how much will the price pay a part for you? Some of the latest rumors for a 2nd-gen Nexus 7 point to a release date in July with a similar price. Yesterday, we featured an image that some tech enthusiasts believe reveals the new Nexus 7 2, but this is certainly up for debate.

Apple delivered a lower iPad price with mini — it is worth noting that Apple did the right thing by launching an iPad mini, which increased tablet sales for Apple thanks to meeting a price point more people would pay for an iPad.
We heard from hundreds of our readers shortly after the iPad mini release last year, especially parents purchasing a new iPad mini for their children at Christmas. They made it clear this wouldn't have happened with the higher price of a full size iPad. Would you be willing to purchase a higher spec iPad mini 2 for around the same price as the current model? You can also read about the need for new multitasking features with iPad Mini 2 and iOS 7.