Samsung Galaxy Note 3 mystery photo is debatable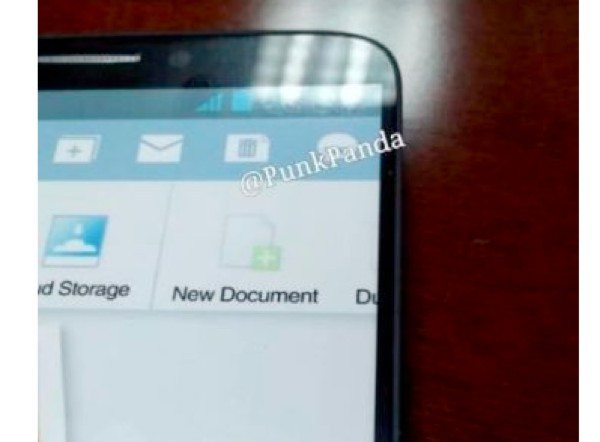 The Samsung Galaxy Note 3 is already gathering a huge amount of interest even though its release is likely to be a few more months away yet. There have been plenty of leaks and rumors about this upcoming phablet-style smartphone, and a leaked image purporting to be a prototype of the phone has just emerged. However, we feel the Samsung Galaxy Note 3 mystery photo is debatable.
The image was leaked via Twitter and doesn't show the entire device, but if for now we assume it is the real deal, then it shows very nicely slim bezels The same source from China that leaked the photo referred to the display size as 6-inches, which pretty much ties in with the leaks so far about a 5.9-inch display.
Another snippet of info was given with the source saying that the display accounts for 84%. Presumably this means that the fascia of the phone is virtually all screen, and not much else. The phone in this latest leak (see image below) varies a bit from a previous leaked image that came to light, as the corners seem to be slightly more rounded. As G for Games points out though, it could be that both are genuine Galaxy Note 3 prototypes as Samsung has been known on occasion to use fake shells to disguise upcoming devices.
Although this image claims to be of the Galaxy Note 3, the mystery deepens further as the person who leaked it also added, "I can not tell you this is Galaxy Note 3." This could just mean that something was lost in translation or simply be the leaker's rather bewildering way of confirming that it is! Alternatively it could be another Galaxy device with a large display, possibly a new Galaxy Mega device with lower-end specs.
Unfortunately at this time we have no way of verifying whether this image is genuinely a Galaxy Note 3 prototype or not, and no doubt the closer we get to a release the more of these kinds of leaks we will see. It looks very likely that the Samsung Galaxy Note 3 will be officially unveiled at IFA 2013 in September, and although specs have not been confirmed there are plenty of people hoping that it appears with a Qualcomm Snapdragon 800 chip.
We'd be interested to hear your views on this Samsung Galaxy Note 3 mystery photo. Do you think this is likely to be the real deal? What are your thoughts on the very slim bezels on the handset? Let us know with your comments.