Acer Iconia W3 tablet hands-on video and price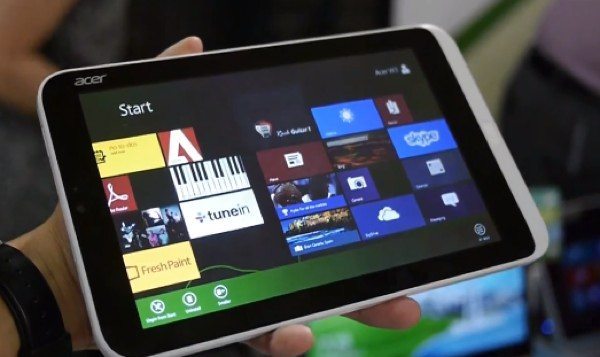 If you are considering a new tablet then you may want to think about the Acer Iconia W3. This is a Windows 8 device but varies from other tablets that use this platform as it has a smaller form factor with an 8.1-inch display. We have some details for you of an Acer Iconia W3 hands-on video and also the price.
The design of the Iconia W3 tablet is nothing to write home about as it has a plastic casing. There's a metallic-look finish to the back, although it still feels like plastic, but it's perfectly adequate. Many people won't be worried that it doesn't feel or look like a premium build, as it has an affordable price tag.
The 8.1-inch display of the Iconia W3 has a resolution of 1280 x 800 with an LCD panel and the tablet is powered by a 1.8GHz Intel Atom dual-core processor and has 2GB of RAM. It operates the full Windows 8 Pro operating system and has a battery life of around 8 hours. The cheapest model has 32GB of internal storage (expandable via microSD), although there is also a 64GB version.
The price is listed at various sources from $380. However the video gives a price of $280, but we think this is simply an error. The $380 price sounds very reasonable considering this Acer Iconia W3 gives PC functionality in a smaller form of tablet, as an alternative to the larger 10-inch tablets currently available.
There is also an optional keyboard dock for those who want a physical keyboard experience, and it's possible to place the tablet in either portrait or landscape mode, although the dock is noticeably larger than the tablet. The dock has a full QWERTY keyboard and slightly raised keys and the price of this extra is $80.
The 3-minute video gives you a good idea of the hardware and shows a neat idea with the keyboard dock, as you can actually store the tablet at the back when its not in use. However, it is noted that there are limitations to the viewing angles. If you want to check out the video then you can see it below this story. We'd like to hear your thoughts on the Acer Iconia W3 tablet. Does this sound like a tablet that you might purchase?