Modern Combat 4 gameplay on BlackBerry PlayBook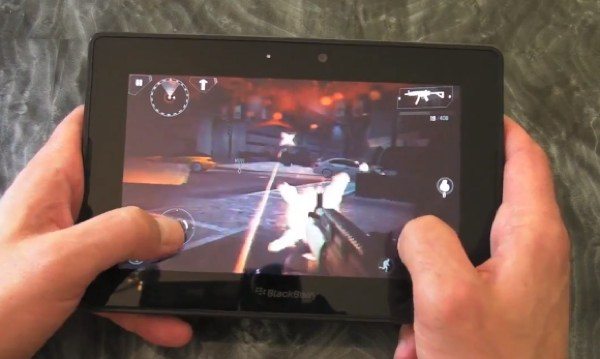 The Modern Combat 4 app may seem like old hat to some mobile device users. However, this game only recently became available for the BlackBerry Playbook. Although the app is good for smartphones, the experience is enhanced on a larger display such as the PlayBook tablet. Today we have a video that shows Modern Combat 4 gameplay on the BlackBerry PlayBook.
This Gameloft app is a first person shooter game, and the player takes on the persona of one of an elite group of soldiers. The mission follows a nuclear disaster and the soldier has to track down world leaders and then protect them from terrorists, so it's a pretty absorbing game.
Modern Combat 4 is available for the BlackBerry PlayBook at BlackBerry World here and the price at the moment is a very reasonable $0.99 /£0.75. The 4-minute YouTube video that you can see below this story shows the various controls used for the game and then goes on to show a decent look of the gameplay involved, as it's being played.
It's a nice look at Modern Combat 4 on the PlayBook and shows how to swipe between the different weapons available when needed. It also illustrates the action-packed nature of the game, and the person playing the game on the video seems to be highly impressed.
We'd like to hear from readers about Modern Combat 4 for the BlackBerry PlayBook. If you watched the video, does the gameplay look like something you would enjoy? Maybe you've already downloaded the app for your PlayBook and want to recommend it, or not? Let us know with your comments.