Micromax Canvas 4 early booking figures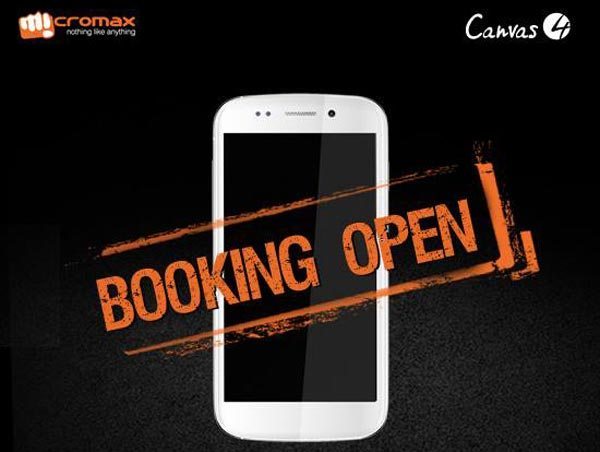 The true Micromax Canvas 4 sales figures will arrive after the official release date, which is set for July 8 and will also deliver the full specs along with a final price.
This lack of a Micromax Canvas 4 price and specs hasn't stopped thousands ordering the popular smartphone in India. Today, we found a glimpse into the early pre-booking figures thanks to a tweet just 7 hours after orders went live.
You can see a tweet in the image below that landed on the official Twitter account for Micromax Mobile, and explains Canvas 4 orders reached over 4,000 just 7 hours after the launch of pre-orders. We have since emailed for an update, but are yet to receive a response, so it would be interesting to see order numbers now considering it has been longer than a day since pre-booking started.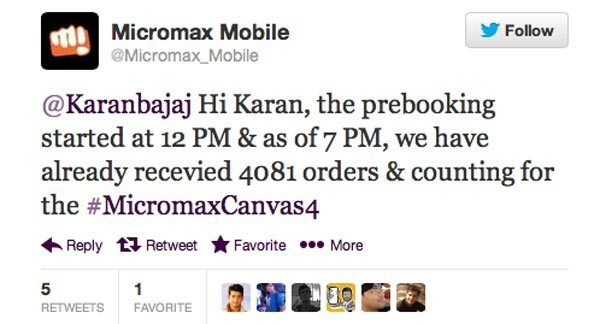 There have been a number of tweets since the message above was shared, although the majority state more information coming July 8. They continually make it clear that "price and specs" for the Micromax Canvas 4 will arrive on this date, although those that place an order before the launch date can get a refund if they don't like the full specs or order price.
Are you impressed by these Micromax Canvas 4 order numbers for the first 7 hours? You should also note that pre-booking is for the white Micromax Canvas 4 only, so those of you wanting a black model would need to wait a little longer. You might also want to read about some people having order problems and mistaking the low booking price as the full smartphone price.