Samsung Galaxy S4 leaked Android 4.3 ROM update and video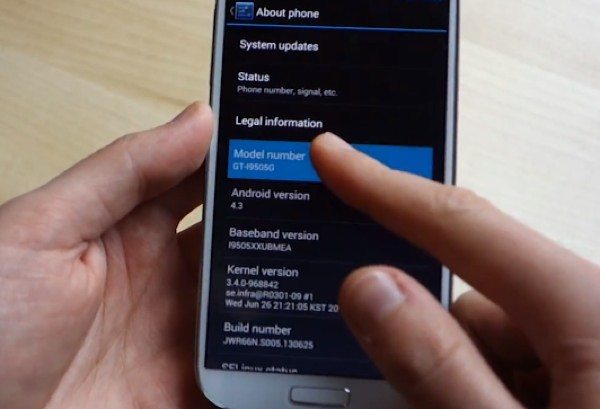 Plenty of Android device enthusiasts have been waiting for the upcoming Android 4.3 update and earlier today we told how the update appeared closer. This stemmed from news that the Samsung Galaxy S4 Google Edition would receive 4.3 soon, and that the Samsung Galaxy S4 GT-I9505 model had been spotted running it. We can tell you that the leaked ROM is now available for the Galaxy S4 I9505 version. We have the necessary details for you, but if you're tempted to use the update you may want to check out a video that shows the results first.
The Galaxy S4 I9505 model uses the Qualcomm Snapdragon 600 quad-core chip, and these details are only for this model, so please don't attempt to update any other Galaxy S4 model with it. Remember this is not the official update just yet but that looks likely to be on the way now that this ROM has leaked. Fortunately somebody attempted somewhat of an experiment using the leaked Android 4.3 for the Galaxy S4 Google Edition on the Galaxy S4 GT-I9505. Luckily everything seemed to go smoothly and the port appears full functional.
If you wish to try it you need the Galaxy S4 GT-I9505 and Custom Recovery and should proceed with caution. We should point out that at Phones Review we cannot recommend the use of unofficial ROM updates, and if you choose to proceed it is entirely your own responsibility if anything goes wrong. Nevertheless we do know that many of our readers enjoy this aspect of owning a smartphone so we like to give you the relevant information.
You should note that this ROM is not flashable through Odin and will void your warranty. Please only use Android 4.3 Build JWR66N if it you are confident in the use of custom ROMs. For full instructions and download links head to SamMobile, but before you do that you might want to see the Android 4.3 ROM in action on the Galaxy S4 GT-I9505. The YouTube video below this story shows the Google Edition 4.3 update ported to the European edition of the Galaxy S4 so you'll know what to expect. It's worth bearing in mind that Android 4.3 is still in development, so more features may be added.
If you do install Android 4.3 on your Samsung Galaxy S4 GT-I9505 model we'd appreciate it if you'd head back to us, and let us know if everything went smoothly and what you think of the results? Let us know with your comments.