Motorola MOTO X sign up page for more details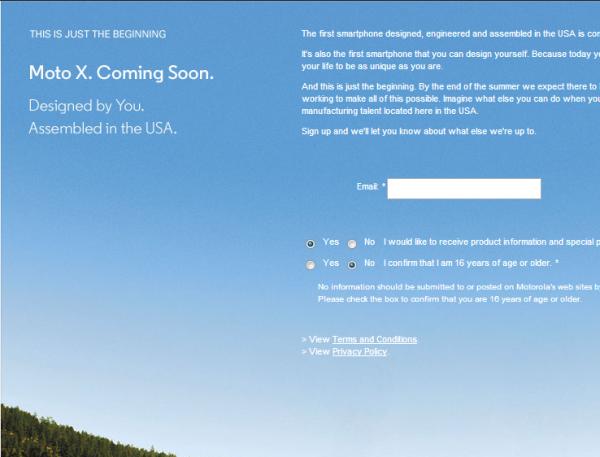 We have had months of rumours and speculation regarding upcoming hardware that has been the work of Google and Motorola combined since the takeover deal finally went through, but it seems like a release is almost upon us as the Motorola Moto X sign up page for more details has gone live.
The handset was confirmed to be in existence by Motorola executives back in May and at the time stated that the handset would be assembled in the US, and was also promised to be available by October.
More recently though we have heard that the device will be customizable by users to a certain extent such as colours and custom wallpapers, and there have been some ads teased by the company.
Motorola has now put up a signup page for those that are interested in finding more details about the handset, which simply means leaving your email address details to receive notification about the Moto X nearer to the handsets release.
As we heard previously specs are thought to include a 4.7-inch HD display that also has a dual core Qualcomm processor running at 1.7GHz with 2GB of RAM running Android 4.2.2 Jelly Bean, but you would have thought this would be Android 4.3 by the time the handset is released.
Are you looking to find out more on the Moto X?