Smart Diapers monitors baby pee with mobile app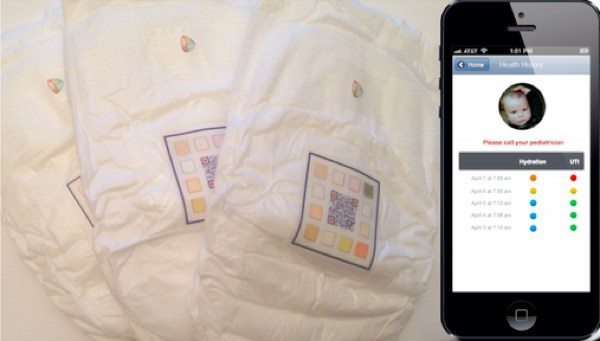 Just when you think we've seen it all as far as apps are concerned, along comes something we've never seen before. We spotted an intriguing funding campaign for a product called Smart Diapers that amazingly can monitor baby pee with the help of a mobile app, and we have all the details ahead.
The notion of monitoring the urine of children for medical purposes is not a new one, as even back in Roman times children's urine was tested for diabetes mellitus. This is a modern take on the same concept by Pixie Scientific, and Smart Diapers are intended to alert parents of possible diseases before the symptoms get too severe. The diapers work with an app to keep track of your child's health.
The idea is that just once a day when changing your child's diaper, you need to scan the front of the Smart Diaper using your phone with the mobile app. There's no need to wait for results while you carry on attending to your child, but the data will begin to be analyzed to spot any new trends. The first version of Smart Diapers has been developed to detect signs of urinary tract infections, prolonged dehydration and developing kidney problems.
The aim is that Smart Diapers will be unobtrusive in day-to-day life and will come into play only when a problem is indicated. This sounds like a very smart idea but funding is required to begin automated manufacturing, to conduct a study monitoring children in a hospital, and to complete the FDA registration process. The current funding campaign has a target of $225,000 and so far $10,405 has been raised, so there's a long way to go.
To find out more, or to back the campaign yourself head to Indiegogo here. You can also see more about Smart Diapers in the video that we've embedded for you below this story. We'd love to hear your thoughts on Smart Diapers, so please do send us your comments using the box below.