HTC One S Android 4.2.2 update and Sense 5 hopes raised
HTC has a pretty poor track record with regards to updating older hardware with new versions of the Android firmware, as they took an age to start updating the current flagship model and have left devices such as the Desire HD behind. Now hopes are again raised that the HTC One S will receive the Android 4.2.2 Jelly Bean update along with Sense 5.
HTC One S owners have been led a merry dance of things recently after originally being promised the later operating system that then led to some doubts before it was announced officially it wouldn't be coming.
Now after some users set up an online petition to request that the handset still received future updates there does seem some hope on the matter. Serial HTC leaker @LlabTooFeR has taken to his Twitter account earlier today and posted the message that you can see on this page.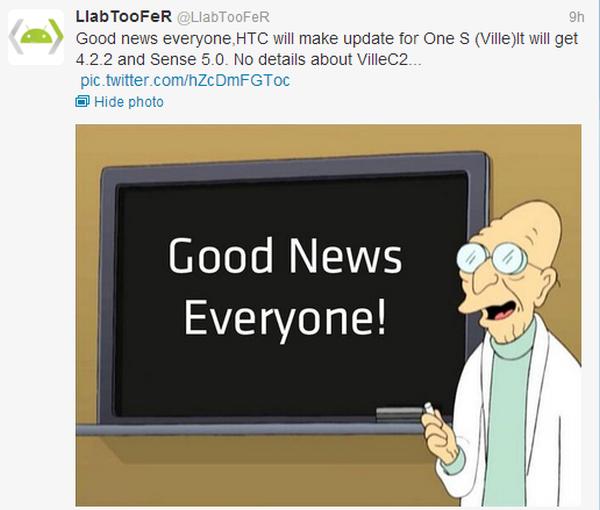 He claims that the software will become available for the HTC Ville variant of the handset, but the status for the HTC One S C2 is currently unknown. This tipster has a pretty solid history with regards to early leaks about all things HTC, so hopefully the news is shortly confirmed.
No timeframe has been given for the new software though and the news hasn't yet been confirmed by the company, and this saga has a certain ring to it when compared to the original HTC Desire and the Android Gingerbread update.
HTC originally suggested that performance issues were preventing the One S from receiving the update, so maybe the company has found a way around the issues by leaving out some features to free up some memory space. Hopefully we will hear something more official in the coming days so HTC One S users can finally begin to look forward to the Android 4.2.2 Jelly Bean update and HTC Sense 5.
Do you think these claims will prove accurate?