iPhone 5 vs iPhone 4 iOS 7 Beta 3 speed comparisons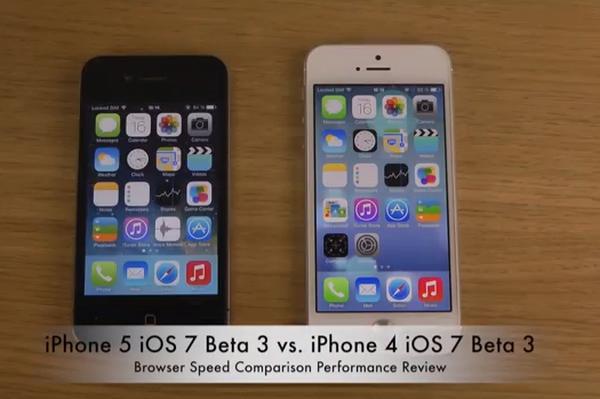 Over the last few weeks we have been busy bringing you the news about the upcoming iOS 7 firmware release that is expected to arrive around September. In the meantime Apple has been releasing beta versions of the software to developers to test, and today we are having a look at the iPhone 5 vs. iPhone 4 with some iOS 7 beta 3 speed comparisons.
It has been almost two weeks now since Apple released the iOS 7 beta 3 firmware and we have already seen it compared to the previous beta release. Today we have a couple of new videos below this article that is checking speed comparisons running the software on the iPhone 5 and iPhone 4.
The first video is a benchmark comparison between the two handsets using the Geekbench tool, and while the iPhone 4 is getting on a bit now it can still run the iOS 7 software with reasonable results. The iPhone 5 obviously completes the benchmark test sooner than the iPhone 4 with a score of 1672, which compares to the iPhone 4 that returned only 395.
Another test is done that is more focused on the graphic prowess of each device, but we won't spoil the results for you. The next video we have for you features the two handsets in a browser speed test with the latest beta of iOS 7.
As we reported previously the performance of the software is notably quicker than it was in beta 2, but can sometimes run slow on the iPhone 4 although it has to be remembered that this is not a final version of the OS.
Opening up the Safari browser on the two handsets viewing the same web page the iPhone 4 works pretty well, and the iPhone 5 does obviously have a slightly better display. Text clarity is very good on both handsets though while the loading up of web pages is notably quicker on the later model.
Scrolling up and down in the Reading Mode is pretty similar on both handsets and double tap works perfectly on both smartphones as well. Despite its age the iPhone 4 performed pretty well in the tests and watch the rest of the video which is just over 8 minutes long and tell us what you think about the handsets performance.