Samsung Galaxy Note 3 alleged user manual reveals specs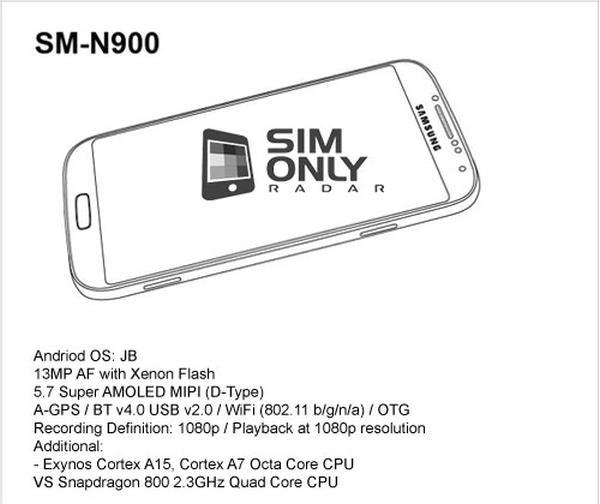 We could be only a few weeks away now from the official unveiling of the next phablet device from South Korean manufacturer Samsung. As with any upcoming flagship device we are often treated to various rumours or leaks that can also include images, although these often prove to be fake. Now today an alleged user manual for the Samsung Galaxy Note 3 reveals the handsets possible specs.
It may be the time to reach for the salt pot but the image that you can see on this page is supposedly from the user manual from the Samsung Galaxy Note 3, and it also shows off some of the handsets specifications.
We have seen plenty of fake images leading up to the launch of the Galaxy S4 but this image is suggesting that the Samsung Galaxy Note 3 will have a screen size of 5.7-inches of the Super AMOLED kind, which does fit in with previous reports.
Other specs are listed as a 13-megapixel rear facing camera paired with a Xenon flash with Full HD video capabilities, but the device is down with two different processor types under the hood. While there is a good chance that this could be the case it is doubtful if it would actually be on a user manual.
Even so it lists the Qualcomm Snapdragon 800 quad core processor along with the in house Exynos 5 Octa, which may have been used on more units of the Galaxy S4 if it wasn't for the apparent shortages of the component at the handsets launch.
The sketch also shows that the handset is running an unnamed version of Android Jelly Bean, which is likely to be 4.3 JB once the handset is released. Obviously this so called image of a user manual could just be someone spending some time in front of a PC creating it based on all the rumours that have so far emerged about the Samsung Galaxy Note 3.
Do you think this is the real deal?
Source: GottaBe Mobile.