12.9-inch iPad 5 and 4.7 to 5.7 iPhone 6 possibilities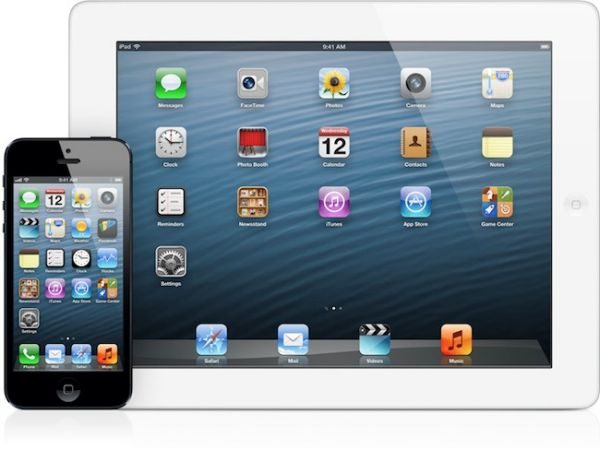 The rumors are flying in at the moment and today they surround the Apple camp again, reports suggest that Apple could be working on a larger iPad and iPhone. Maybe there is a slim chance we could in the future and no doubt in 2014 see a new 13-inch iPad 5 and 4.7-inch and above iPhones.
The Wall Street Journal is a credible source when it comes to Apple news, and the credibility of larger iPad and iPhone looks promising. WSJ is reporting that Apple is testing larger screens on these two smart devices and has even asked for prototypes.
The iPad 4 display size is 9.7-inches and the iPad mini comes with a 7.9-inch screen, the iPhone 5 comes with a 4-inch display. Now they want prototypes on a new tablet with a display size of just under 13-inches and iPhones over 4-inches.
Maybe we could see a new iPad 5 with a 12.9-inch display and the possibility of a 4.7-inch iPhone; Apple could push the boat out and release two iPhones, one iPhone 6 with a 4.7-inch display and the other with a 5.7-inch screen.
Apple knows there is a major demand for larger displays, Samsung has kept up the getting bigger tradition and Apple may need to act upon this to compete. We know that Apple's biggest rival is Samsung, this is common knowledge and action is surely due soon for Apple to release larger iPhone and iPad display sizes.
Apple only increased the iPhone size by 0.5 inches when they released the iPhone 5; going from 3.5 inches to 4-inches is not what you call a big change.
There could be two releases of each device next year, how about an iPad 5 with the normal 9.7-inch display with Retina (Ok the battery might not like this) and a new iPad Maxi with a 12.9-inch display? They could also release two smartphones in 2014, the iPhone 6 with a new 4.7-inch screen and the iPhone Maxi with a 5.7-inch display.
We cannot wait to hear more about Apple and its talks with component and display manufacturers in Korea for supplies, Apple production could seriously see a massive jump next year. The odds of larger displays on the iPad and iPhone this year are slim to none, but stranger things have happened.
At the moment details are slim, but we would love answers to this question — Would you like a new 9.7-inch iPad 5 and a 13-inch iPad Maxi, as well as two new iPhones one at 4.7-inches and the other at 5.7?