Nokia Lumia 625 official specs show 5MP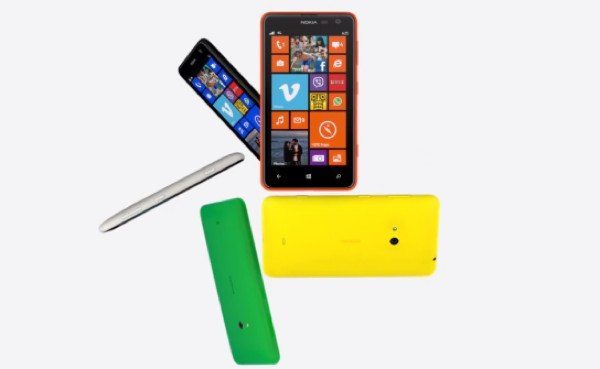 The Nokia Lumia 625 smartphone has just been officially announced and is billed as being a "fun, fast and affordable" addition to the Lumia family. We now have confirmed details for the Lumia 625 that will release in Q3, so read on for news of official specs, features and an estimated price.
Yesterday we gave readers details of leaked full specs, and now Nokia has given some more information. The company says the Lumia 625 will deliver "high-speed entertainment to a wide audience" as this is aimed at being a very accessible smartphone. It has a 1.2GHz dual-core processor, 4.7-inch super-sensitive LCD display with 201 ppi, 512MB of RAM, and 8GB of internal storage (expandable up to 64GB with SD card).
The Lumia 625 also has a 5-megapixel rear camera with 1080p video capture, a VGA front-facing camera, 4G Internet support, a 2000 mAh battery and runs the Windows Phone 8 operating system with the Lumia Amber update. The display is actually the largest of Nokia's smartphone screens so far, and is likely to appeal to many fans of Nokia devices.
The Lumia 625 has five vividly colored changeable shells and offers many new features that are also offered in the recently announced Nokia Lumia 1020 flagship. Camera apps include Nokia Smart Camera enabling users to remove unwanted items from images, and Nokia Cinemagraph. People Hub makes it easy to be in touch with family and friends while Windows Phone 8 also offers Xbox Live and Microsoft Office. There will also be 7GB of online SkyDrive storage available.
Users will have access to over 165,000 apps and surfing via Internet Explorer 10 while Nokia Music is another feature and will give users unlimited streaming of ad-free mixes (data charges apply over a cellular network). It's also possible to download mixes for listening offline. The Lumia 625 also has BOOM headphones and the HERE feature provides free maps, public transport information and turn-by-turn navigation.
Color options include black, green, orange, white and yellow, with changeable shells for personalization. There's an estimated retail price of 220 Euros, (around £190). That doesn't include any taxes or subsidies. The device will release some time in Q3 and will launch in regions including China, Europe, Asia Pacific, India, Middle East, Africa and Latin America.
Nokia has also released an introductory one-minute video for the Lumia 625 that you can view below this story for a good look at the device. Are you a potential customer for the Nokia Lumia 625? What is it about this affordable smartphone that attracts you most? Let us know with your comments.