Samsung Galaxy S4 Android 4.3 JB unloved in video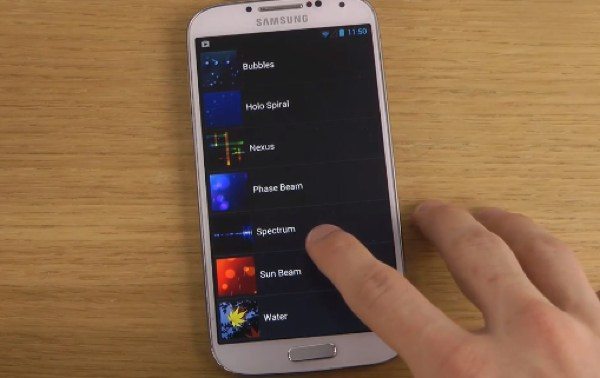 The Android 4.3 Jelly Bean update is on the way soon and we've already given readers several looks of the leaked build running on various devices. Today we have a video to share with you of the Samsung Galaxy S4 with Android 4.3 JB, but rather surprisingly it seems the stock update is unloved.
Recently we showed readers a video of the iPhone 4 and 5 with iOS 7 beta 3 against the Galaxy S4 with Android 4.3. Following this we shared a video that showed the Samsung Galaxy S4 with Android 4.3 vs. the iPhone 5 with iOS beta 3 in speed tests, in which the GS4 fared pretty well.
Now we've come across an 8-minute YouTube video look that details why the reviewer thinks the Galaxy S4 with stock Android 4.3 sucks and some of the things he doesn't like about it. The video begins with one of the aspects that the reviewer really hates and that's the "smart stuff" that you don't get with stock Google Android, but do get with Samsung's TouchWiz UI.
Another thing noted is that when Wi-Fi is tapped, instead of enabling it you jump straight into the app, which is not necessary. The lack of Samsung Smart Pause, Smart stay and more is also a bugbear, as with the Galaxy S4 Google Edition you can't use Samsung's own browser, only the Google Chrome browser. It's suggested that there should be a way to download TouchWiz features if you want them.
The limited amount of new lock screen widgets is also seen as a drawback, and there's also some confusion about why there are not more new live wallpapers. If you check out the video below this story you'll get the full story on the reviewers complaints about stock Android 4.3 on his Galaxy S4.
If you watch the video we'd really like to know if you agree with the reviewers concerns about stock Android 4.3 on the Samsung Galaxy S4? Maybe you've tried it out for yourself and don't have any issues with Android 4.3? Alternatively maybe you've noticed some other things not mentioned here that you're not happy with?