iPhone 6 foldable providing 4.2, 5.8 and 7.5-inch displays
Every year since 2007 we have continually been bombarded with what Apple may have in store for its next version of the iPhone. This year it has been focusing on the iPhone 5S and a budget smartphone being released by the company, and we have even had talk of what may arrive next year. Today we have an iPhone 6 that is foldable that is providing 4.2, 5.8 and 7.5-inch displays.
We like to bring you various different concept phones and today's iPhone 6 design is pretty different to what we have seen so far. There have been numerous rumours lately that have suggested the iPhone 6 next year will have a larger display with 4.7-inch and 5.7inch sizes mentioned.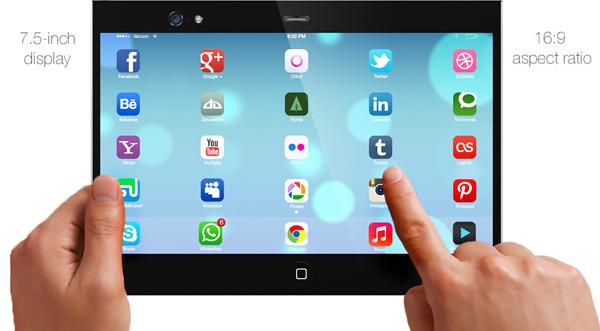 This concept design that you can see on this page takes it to another level though and is the work of designer Pritesh Chavan, and is basically an iPhone and iPad rolled into one device. It starts off with a 4.2-inch smartphone that is slightly larger than the iPhone 5 with a 16:9 widescreen aspect ratio and then it can be opened up to create a device with a 5.8-inch display.
It doesn't end there though as it can be opened up further to create a screen size almost as big as the iPad mini at 7.5-inches, and again with a 16:9 aspect ratio. The device is smart as it will switch itself on when the user opens it as well as having a dedicated power button.
The single camera will supposedly cover all a user's needs and the speakers are placed on the outer edges to create a better surround sound, and a quick swipe from left to right at the bottom of the display will control the sound.
There is no chance of this sort of tech being found on a smartphone next year but who knows in years to come we might all be carrying around devices like this.
Would you like to see an iPhone like this one day?
Source: Yanko Design.