Viber attack shows spy on you hack app message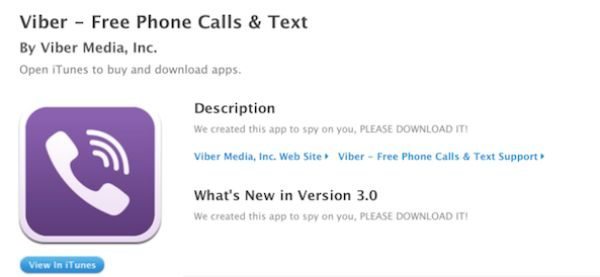 There were a few that reported Tango got hacked not so long ago, and even though we cannot comment on this because we received no news on this we can report on Viber being attacked. Hackers seem to be coming out of the woodwork this month, Apple and its Dev Center hack and so many more have arisen.
Even Instagram got hit and now Viber is on the tail end of a hacking groups, the company did report that the attack was minimal even though a few Viber users have said different.
9to5Mac have a screenshot, which says, "We created this app to spy on you, PLEASE DOWNLOAD IT!" This message is what the hackers put up, which is worrying for new users want to install the Viber app.
When you visit the App Store now you will see it has all been restored, some have even said this could be related to Apple's Dev Center attack but we cannot see any comparison here at all. Mark Gurman via 9to5Mac pointed out that hackers may have used a phishing scam to access Viber's iTunes Connect account.
Viber support have already acknowledged the attack if defacing Viber, they do say that no sensitive user data was exposed and databases were NOT hacked.
Phones Review have emailed Viber but we have not heard anything back from them, we will email them once more to see if they can explain a little more to ease customers minds.
Please do comment below if you have anything to say about the Viber app hack!