Nexus 5 concepts can get it very wrong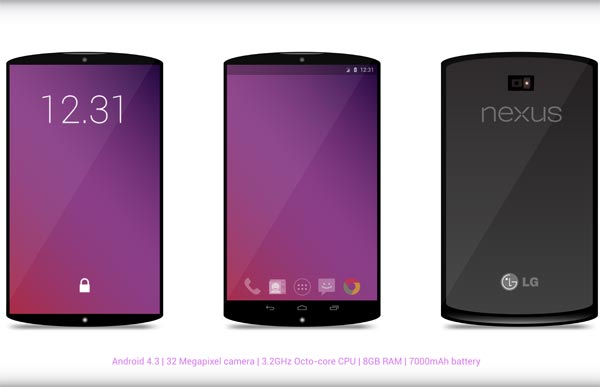 Over the past few days we have seen another Nexus 5 concept doing the rounds on numerous blogs, although it seems even well known technology and phone blogs can get it wrong sometimes. Not only is the Nexus 5 concept you see below this article getting it very wrong, it is also a number of weeks old even though certain websites, you know the ones, are pitching this design as something new.
Even the most casual fans can see that Android 4.3 featuring in this Nexus 5 concept is wrong, and it is almost certain that this upcoming smartphone will feature Android 5.0 Key Lime Pie when it releases. The expected release date is somewhere in October for the next major Android update, so there's a good chance Nexus 5 will launch then as well.
The 7,000mAh battery seems to be something from a fairy tale and while we would love specs like this on the Nexus 5, we wouldn't go placing any bets on that feature arriving on this years model.
We like the idea of a 32-megapixel camera and have seen Nokia do some impressive things with their Lumia 1025, which would be ideal at a concert for shooting video or taking pictures from a distance.
From what we can tell it seems this concept was originally designed by The Techno Toast, although a number of blogs trying to sell this concept as something new don't give any credit at all and just reference Twitter without a link.
Other Nexus 5 specs dreamed about in this concept include a 3.2GHz Octo-core CPU, a crazy 8GB of RAM, 4G, Bluetooth 4.0, NFC, 4K video resolution and battery life that would last a whole week on just one change. Again, this specs list is something of a mix with some achievable specs and those that seem to be drummed up without any realistic thought.
If you had to write down a realistic specs list for Google's Nexus 5, then what would be on your wish list?