Android Device Manager track and find now live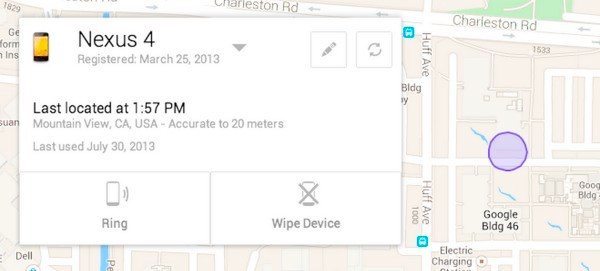 Many readers may remember that a few days ago we gave some information about a new Google initiative called Android Device Manager that was coming with a Google Play Services update. Today we can tell you that the Android Device Manager track and find interface is now live.
When we first informed readers about Android Device Manager we told how it would consist of a website and Android app, but that the web interface and app were not yet launched. However, screenshots had come to light of the Google Play Services update that showed the new option under device management settings. These also revealed that the service would enable users to remotely lock the screen or change the lock screen password as well as giving the ability to erase all data from the missing device.
The service is available for devices running Android 2.2 or later and news that the web interface has now gone live for Android tablets and smartphones will be welcomed by many device users. To enable Android Device Manger you'll need to go to Settings followed by Security. When you see the Device administrators setting just tap that and you will then be able to see Android Device Manager. Enable the service by simply tapping on the checkbox.
You can see the web interface at Device Manager here and once you've enabled this feature you can track your device on Google Maps, make it ring at full volume (even if it's set to silent), or choose from the options we mentioned above. Multiple Android devices can be tracked on the web interface via a drop-down menu.
If you want to use the location tracking feature you'll need to make sure that Google location settings have been enabled on your device, using the Location menu on Google Settings. Android Device Manager is a timely move from Google considering other manufacturers already offer similar online utilities, such as Apple's Find My iPhone. It seems likely that this facility will be well-used by Android device enthusiasts.
Are you intending to take advantage of the Google Android Device Manager service? Let us know what you think of this new initiative by sending us your comments.