Sony HT-ST7 soundbar with Bluetooth Sync button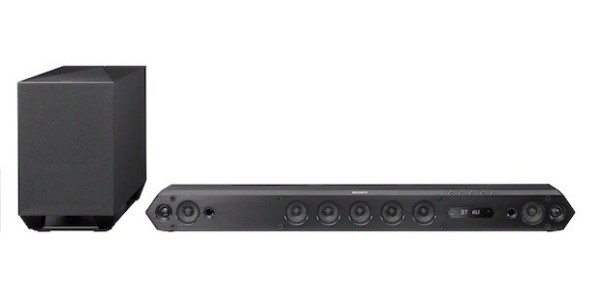 With the soundbar market increasing rapidly, we want to bring you some details about the new Sony HT-ST7 soundbar that features a Bluetooth Sync button. This soundbar is aimed at the high-end of the market and will contend with other speakers that are more expensive.
Home entertainment and mobile devices are increasingly converging and the Sony HT-ST7 releases today at a price of $1,299. The ST7 has a sleek aluminum design and as well as NFC-enabled Bluetooth pairing it has a variety of wired connectivity options.
There are nine independent speaker drivers with seven discrete amplifiers and an included high-quality wireless subwoofer with dual bass drivers. The HT-ST7 also features audio tech such as AptX and AAC for wireless music streaming as well as DTS and Dolby Digital providing simulated surround sound.
This Sony soundbar also includes a built-in IR repeater, HDMI and Toslink inputs, an LCD information screen that's dimmable, single analog audio input and audio return channel. The price mentioned above also includes a collapsible remote and Sony has even used the skills of Paul Ottoson, an Academy Award winning sound engineer, for fine-tuning the soundbar.
We'd like to hear your thoughts on the new Sony HT-ST7 soundbar. It seems to have a lot to offer for the price, but do you think the price is competitive? Let us know with your comments.
Source: Engadget