LG G2 vs. Galaxy S4, Moto X, HTC One on paper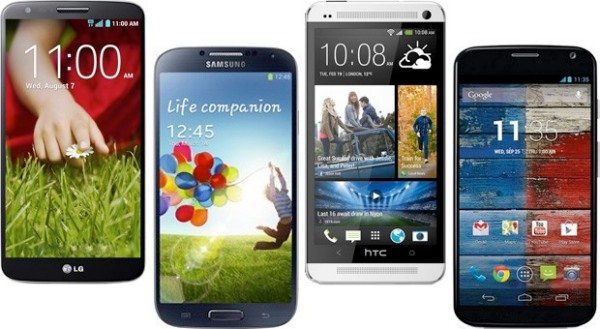 As we approach September, this is always the hardest time of the year and even more so this year. The reason for this is because the HTC One was launched, then the Galaxy S4, which are both superb handset and still have impressive hardware. However, there is also the LG G2 and the new Moto X as well, and not forgetting the upcoming iPhone 5S next month.
For now we are only interested in the handsets we know about, and we would like to focus more on the LG G2 because this is the latest handset to be unveiled. You may be wondering how the LG G2 compares to the Galaxy S4, Moto X and the HTC One on paper.
The LG G2 comes with a 5.2-inch Full HD display the same as the Galaxy S4, with the HTC One and the Moto X coming with a 4.7-inch display, the Moto X has a 720P screen and the HTC One a 1080P screen.

Image thanks to Droid Life.
Processor wise the LG G2 packs a 2.26GHz Quad-core Snapdragon 800 compared to that of the Galaxy S4, Moto X and the HTC One with their 1.9GHz Snapdragon 600, Snapdragon S4 Pro and 1.7GHz Snapdragon respectively.
When it comes to internal storage the Galaxy S4 wins that round with up to 64GB, but all come with 2GB of RAM. As for the battery, the Moto X wins thanks to its up to 24 hour battery life. For a full spec comparison on paper then check out the image above.
There are also two informative videos below that compares the LG G2 to the Galaxy S4 and also a sneak peak of the LG G2 coming to the Three network in the UK.